For my 50th birthday I had planned on something quite a bit different. I was to spend 4 days/nights in complete darkness. It was profound.
This was definitely an odd way to spend this milestone bday as many of my friends and family told me. Lots of people thought I was crazy but I knew there was a powerful medicine here for me.

Ever since hearing about this ancient practice of going into full darkness, I had equal parts attraction and trepidation of what would show up.

What happens when it's just you and yourself in the infinite void?

A darkness retreat is a small room that's completely pitch black with zero light coming in. You've got one bed, yoga mat, meditation cushion, futon and a bathroom with a shower. There's a little shelf for you to eat your meals delivered through a 2-way box. (You can check more at BlissHaven.yoga)

I had 2 friends who each did 10 days at this same location. I didn't really research where it was and there's real magic to this little spot in Mazunte, Mexico. It's the most southern point of Mexico with a really powerful energy. I learned from healer (only a day before I left for home) that this land was known by indigenous people as the sacred womb of the Americas.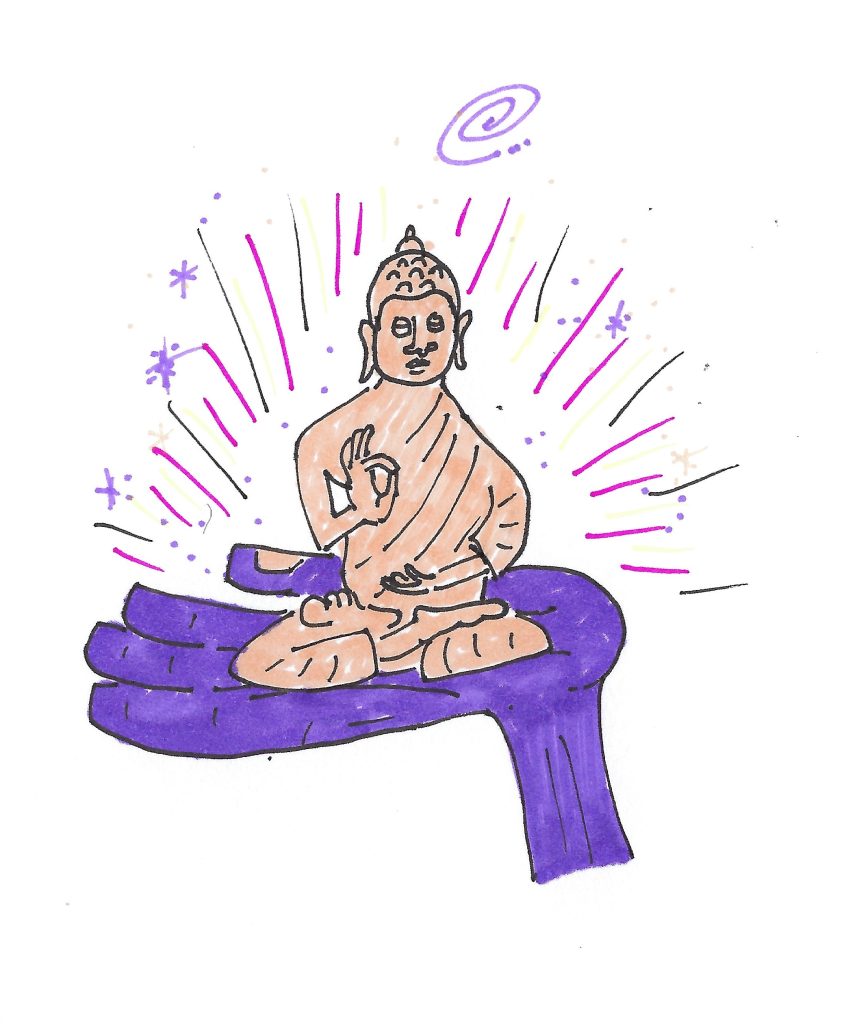 I felt like my last 10 years of spiritual practices, ceremonies and journeys had helped prepare me for this sacred initiation.
To start the ceremony, you are escorted back into your room with a single candle. A tiny bit of light to get acquainted and mentally map out your room. (I did have a wall disappear on me. My caretaker confirmed that happened we to her too. Remember it's the infinite void in there!)
You're the one who blows out the candle so you start your ceremony and I thought I'd be freaked out for a brief moment, but it was incredibly peaceful. My friend, Emily Fletcher, just did a 5 day darkness retreat shared how the darkness is feminine, gentle womb-like medicine. It doesn't have to be scary.

I sat for my first mediation and immediately got so peaceful about everything.
One insight came up that seems so simple:
"For Not Against"
"What do you want more of?" Essentially stop giving more energy to what we don't want and connect to what we do want. (Here's a page written in the dark.) 😉
"Control vs freedom" (ie so much censorship happening)
"poisons vs nurturing."
Consumption vs creation."
Everything you could ever need or want is truly in the palm of your hands.
What are you creating right now?
One good way to check is to see what IS showing up in your "reality."
Cosmic Catalyst Journaling Invitation
Q: What am I "For" not "against?
M.A.G.I.C. Meditation
My very first meditation in there was for the magic and gratitude of cacao. I had the caretaker serve me cacao each morning. It was my guide. I brought an art pad in the dark and never knew which colors I was using. Here's the first one after meditating on the magical threads cacao has connected to me in my life.
So believe it or not, I brought a sketch pad with me in the darkness and also 50 different colored markers. (It was my 50th remember?) I had no idea what color I was selecting or anything like and simply drew from the feelings and energies that were opened up after the meditations or breathwork sessions.
This is the very first one I doodled in there: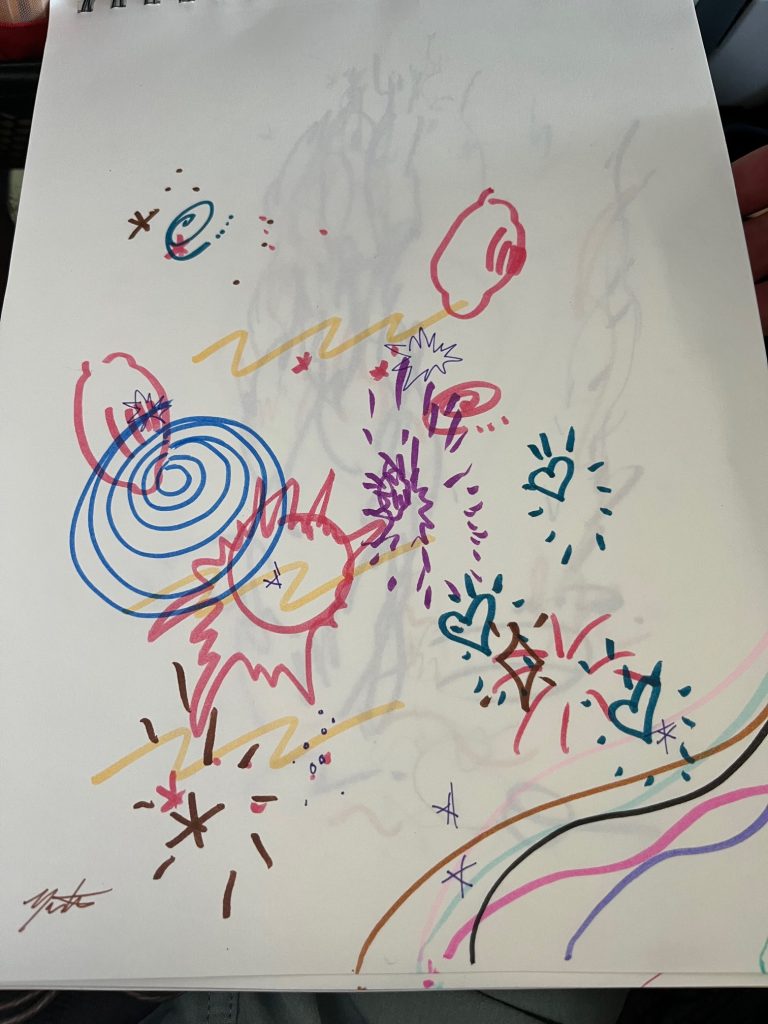 This Cosmic Doodle represents the joyful appreciation of my Mentors, Allies, Guides, Inner Circle and Catalysts in my life across all different stages. (Did you get it? M.A.G.I.C.) 😉
Also as you're looking at the picture it carries this energy too. (Special Deal: I'll send you a signed Cosmic Journal if you can tell me what plant is represented here.)
This was such a powerful meditation because it filled me up with gratitude, appreciation and magic for the next 4 days and nights in the complete dark. I held a recent gathering for our ONE Thousand Suns and shared this same M.A.G.I.C. Meditation with them.
It's less than 10 minutes so give it a try. Also you are welcome to share with others, but please forward this entire email.
Now after your meditation answer the following…
Cosmic Catalyst Journaling Invitation
Q: "Who is on my M.A.G.I.C. Team?"
Bonus action: Send 2 or 3 of them handwritten notes of appreciation. (You can read the blog post here – https://yaniksilver.com/handwritten-note/ if you need more of a reason to do this.)
Cozy Cosmic Cocoon…
Now my wife, Missy, gave me the intention of "cozy." I connected to that and it never felt scary – but just like a "Cozy Cosmic Cocoon."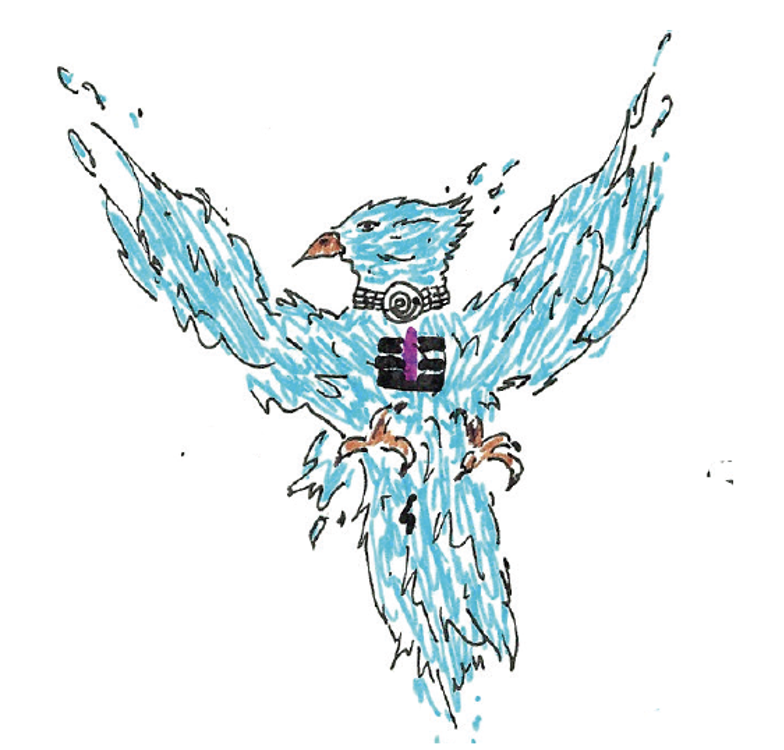 My intention was "Joyful RE emergence in Full Being."
And part of that was my review of the different phases of my life:
Stage 1) I connected deeply in there with the 11-year old Yanik, the fun, creative, goofy little starchild.
Stage 2) The Athlete phase or competitor phase when I was deep into competitive ice hockey and volleyball.
Stage 3) The Achiever/Entrepreneur phase and all the incredible teachers that "randomly" came into my life. From Dan Kennedy to Ted Nicholas, Earl Nightingale, Foster Hibbard-type material to the Internet world and then all the incredible icons I've met since.
Stage 4) My spiritual awakening at 39 prompted punctuated by a praying mantis at the door the day before my birthday.
I feel like the last 10 years+ of practices, ceremony and earth wisdom all prepared me for what's to come.
The entire time inside the darkness felt like a deep initiation into this next phase of my life. In some ways like a phoenix. Actually, in there, I had several meditations of growing wings and envisioned phoenix wings. (And the "make magic" moment is when I came out sitting at the table next to me was a guy with a phoenix tattoo on his back. Seriously!)
I integrated all these previous parts and wrote this in the dark as the next phase: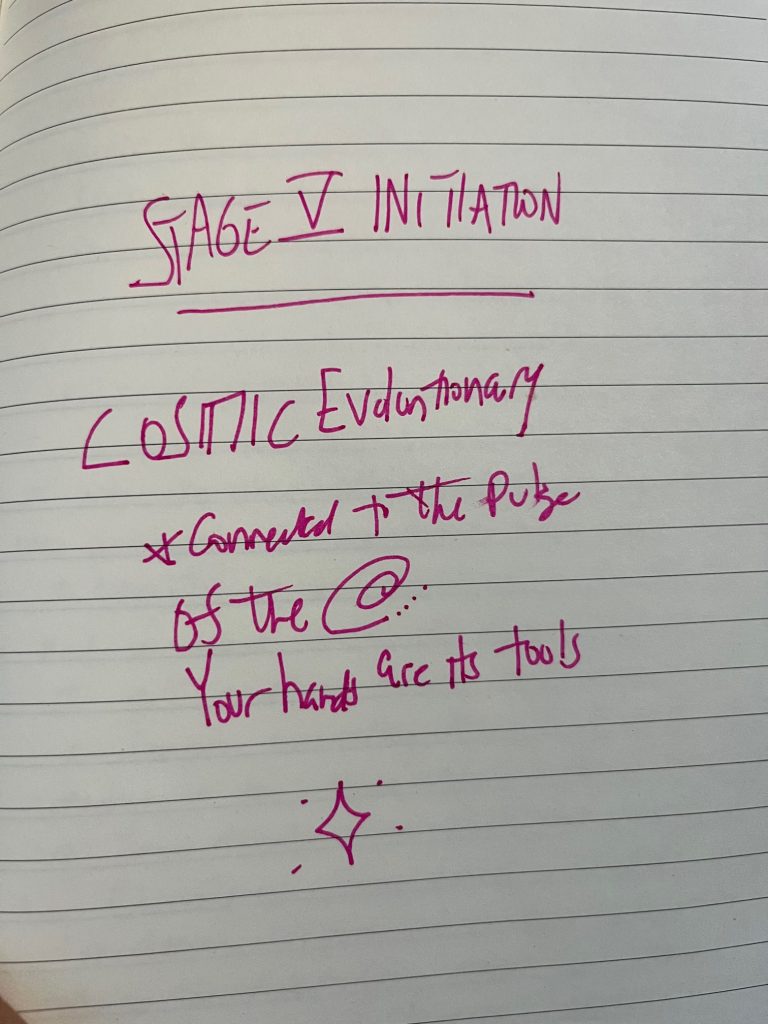 Cosmic Catalyst Journaling Invitation
Q: "What is your next cosmic evolutionary stage?"