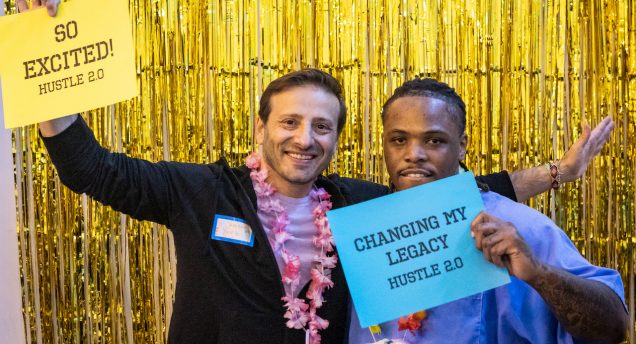 Mavericks joined other Mavericks in jail last month.
I never thought I'd write that sentence, but it is completely true.
Maverick members teamed up with Jayson Gaignard and his MMT community for a totally unique Hustle 2.0 Impact experience with co-founder Cat Hoke.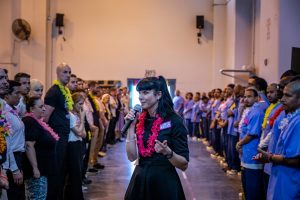 Hustle 2.0 provides incarcerated people with the training and tools they need to transform their lives, make an impact, and hustle. Hustle 2.0's comprehensive curriculum is co-authored by industry-leading content experts and incarcerated people, with relatable, evidence-informed courses that are directly relevant to incarcerated people's success while doing time and after release. In fact, the previous program, Cat, co-created with Defy Ventures, has an astoundingly tiny, single-digit percentage going back into prison as compared to the standard 70–80% recidivism rate.
I didn't really know what to expect but was ready and open for anything.
Our day started with a 5:30 a.m. departure from LA and a very strict dress code. Many volunteers even had to buy new clothes just because certain colors were absolute NOs for the prison based on the colors the incarcerated population wears, what guards wear, or just gang colors. We were headed to Kern Valley prison, a Level IV Maximum Security institution in Delano, CA.
After a thorough process of being led through doors and barbed wire fences, we were greeted with a tunnel of joy. All the inmates who are part of the program were high-fiving and whooping it up as we ran through the entrance. And then we met the mavericks! That's right!
To me, language is so important. Your words create your world, and Hustle 2.0 calls participants "Mavericks." So Mavericks and Mavericks together in prison!
(Note: To make it clearer, in this article, I'll use capital 'M' Maverick for members and lowercase 'm' for mavericks in the Hustle 2.0 program.)
Part of the mentoring and connection process is learning about each other. All of the volunteers had a quick moment to share their biggest business brags after a bit of dancing to the front of the room. Cat and Hustle 2.0 are definitely after our own heart when it comes to bringing fun and joy into an area that has the potential for a lot of emotional pain.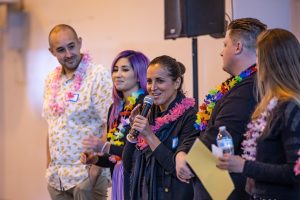 Before I went, several people asked me why I'd want to help murderers and violent criminals. My answer was, "If they are getting out anyway, I want to equip them with the empathy, tools, and thinking to ensure they don't do it again." There's an inside part to this about feeling whole, seen, and loved, and there's the practical part of having an economic opportunity.
That's why two weeks before the event at Traffic & Conversion, a few Mavericks broke away to spend a few hours doing an exploratory brainstorm about developing an "Evolved Economic Empowerment Business-in-a-Box" idea for these returning citizens. Maverick #154 Damien Zamora, Maverick #304 Chris Koomey, Maverick #269 Tom Shieh, and Maverick #61 Mike Cline were in that room, along with a few more colleagues and our new Community Catalyst, Chris Hay. (Part of Chris's role is working on accelerating impact projects and the ripple effect we can have.)
We made some progress, and there's more to come. Certainly now, after experiencing an even deeper connection, I have an even better understanding of the situation.
And that deep connection came with one-on-one conversations and mentoring with Mavericks. Volunteers were seated in a circle around the gym, while Mavericks were on the inside. We did a few sequences of speed networking and mentoring sessions. After each session, you exchange words of appreciation on your "Sweet Sheet," and at the end, you pick individuals to truly "see."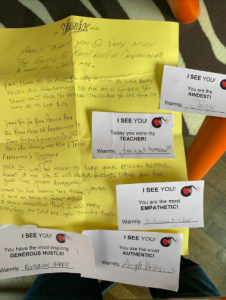 These words of affirmation and acknowledgment make all the difference to people no matter what level they are at in life. (Many Campers tell us they hang on to their "Happy Camper" notes for years. I do too!)
I heard quite a few stories that would break your heart. One of the mavericks I really connected with was "Jumping James." Each of us put an adjective using the first letter of our first name on our name badge. Mine was "Yoda'cious Yanik." So many people have referred to me as a Yoda so I'm embracing it, but it's not an adjective, so yoda'cious I guess is my made up one.
James looked me directly in the eye and starting telling me his story and his dream. When he was finished, I saw a book he had brought with him – 177 Mental Toughness Secrets of the World Class by Steve Siebold. I recognized it because I have it on my bookshelf too but haven't looked at in years. I opened it up, and James had underlined and devoured the book. And then we got to talking about other habits, and he told me he meditated each day. Wow! I had to look past the tattoo around his eye, but looking directly into his eyes, he had the spark – that light of being able to do something great if given the chance.
Part of the speed mentoring was each maverick sharing their business idea with you and then getting some quick advice from the volunteers. Then, at the end of the three rounds, you had one ticket to give to someone who you thought you'd invest in. By that time, James wasn't in my area of the circle anymore, so I didn't hear his pitch. But I was really proud because he was one of four or five mavericks who got all three tickets from the volunteers. That means all three volunteers thought his idea would work.
James circled back after that, and we grabbed lunch together and a quick picture.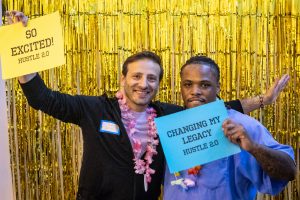 Step to the Line
One of the most emotional exercises Cat facilitates took place after lunch. I had done it with my friend Gio and his Archangels group, where I had met Cat, so I knew a little bit of what to expect. I don't want to spoil the process for you with too many details, because I'm sure many of the Mavericks will go at some point for this impact experience. The exercise is called "Step to the Line," and it's designed to help you see the commonality of what we all have. If a statement read is true for you, you step up to the line. If not, you walk away from the line. You are paired off with one person directly in front of you. My partner was Jumping James again. We made sure to be together.
With each statement, you learned a bit more about everyone around you with statements of "I've had too much to drink and still drove" or "I've contemplated suicide," etc. It was incredible how many people on the volunteer side actually stepped to the line for that statement. In fact, when we had a moment of one-on-one time with our partner, that was what got James to cry. He was deeply moved by how many incredible people had considered ending it all. (In fact, I think suicide and depression are two of the hidden secrets too many entrepreneurs keep private and it's something I'd like to do more impact work around.)
One statement was asking if you have fully and completely forgiven yourself for mistakes of the past. James and I both stepped OFF the line for that. Part of the program is helping to bring forgiveness because otherwise, that non-forgiveness shows back up in violence, anger, and revenge. James and I shared a deep, deep connection because of what happened there, and then I got a little tinge of "oh, oh!"
He told me he is coming out in five months.
I thought, "Am I for real, or do I just want to feel good in here and then 'they' stay where they are?"
But this is a guy I'd bet on – reading all the time, underlining, taking notes, meditating, etc. I told him later, before we left, "I believe in you." And I do. But it was a real sobering moment to be aware of that feeling, and that also plays into what are other opportunities for people with criminal records, those who look "dangerous."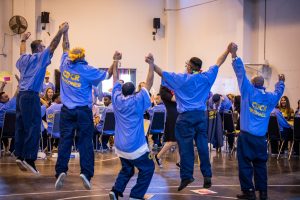 After this experience, I have an even deeper sense that there needs to be more done with the prison system. Is it for punishment or rehabilitation? All the incentives of the prison system are set up to be a highly profitable mega business without truly delivering the value our society needs right now. I'm proud to have Mavericks and mavericks unite to help co-create new solutions to this pressing issue.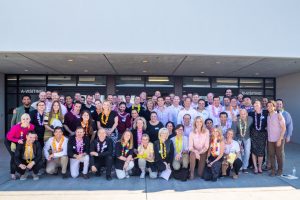 If you're a successful entrepreneur and want to get involved in more solutions for making a greater impact check out the collective of Maverick1000.com