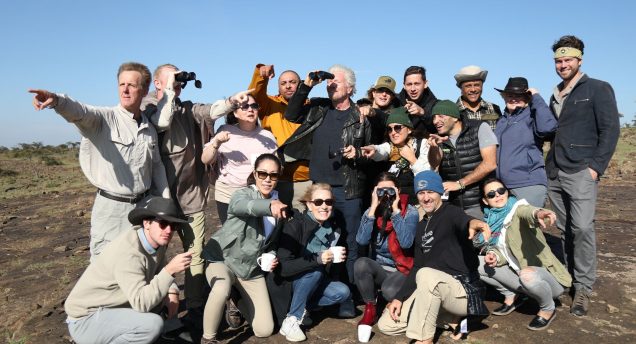 Maverick has once again partnered with Virgin Unite and Sir Richard Branson in creating a unique Impact Experience bringing together game-changing entrepreneurs from around the globe.  This time in Kenya. 
A group of Mavericks and invited guests from countries such as Denmark, Ireland, Indonesia, Canada, Croatia and the U.S, came together for a 7-night experience in Kenya to not only share a once in a lifetime experience, but to use their talents, resources and brainpower to make a difference.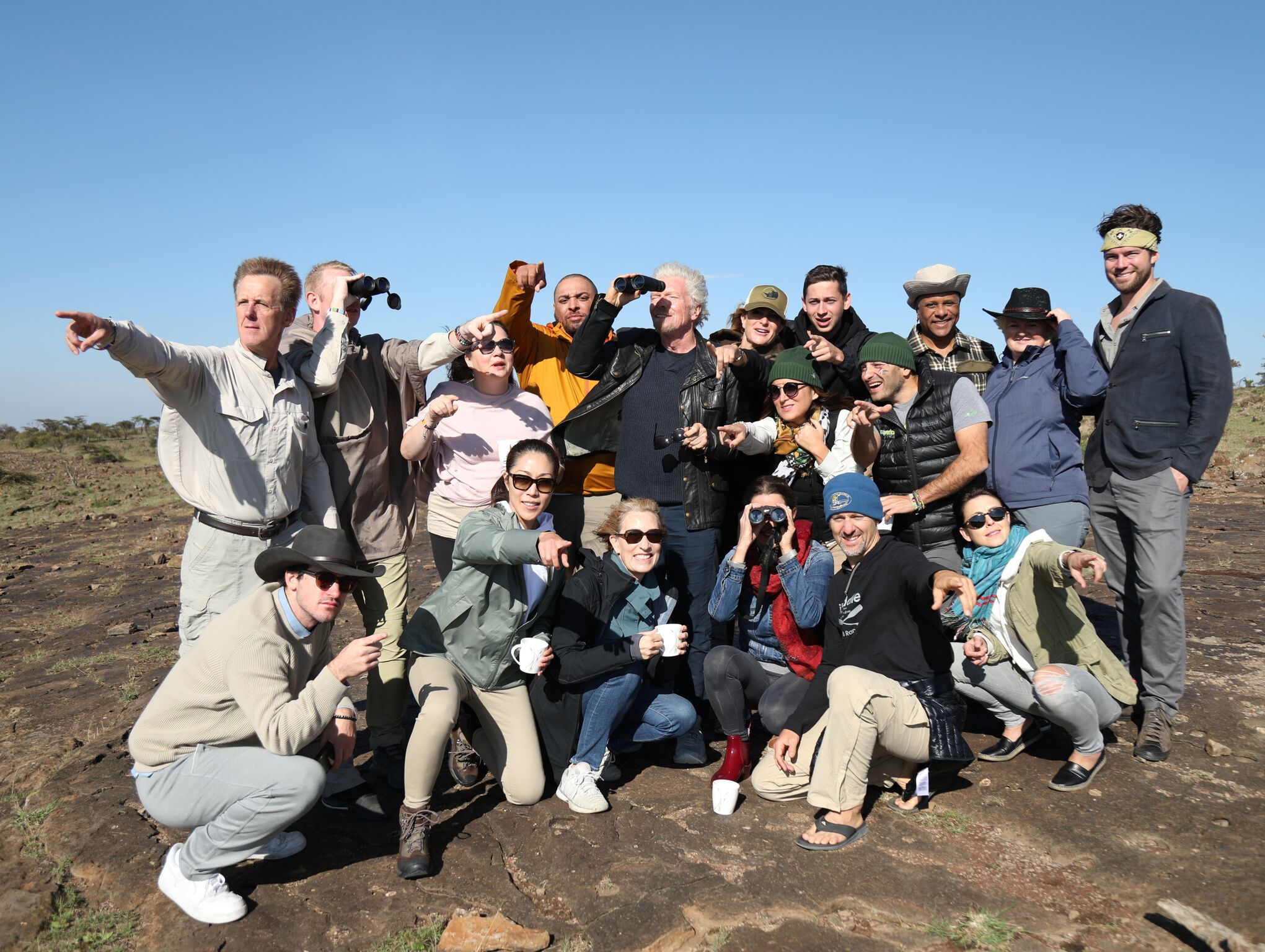 Here are a few highlights…
Day 1: African Prison Project,  David Sheldrick Wildlife Trust and the Giraffe Sanctuary – Nairobi
On our first morning in Nairobi we traveled to Thika Prison to visit with 
African Prison Project.  The mission of APP is to bring dignity, hope, and justice to prison communities in Africa by providing legal training and services for prisoners and prison staff.  Their program is having a tremendous amount of impact.
For many, this was their first time inside of a prison, but regardless it was an eye-opening experience for all. On first glance you can see the overwhelming problem of the prison having far more prisoners than they are able to accommodate with many inmates sitting in each other's laps and even sharing small mattresses at night. 
More surprising was when we learned that one of the overflowing wings we visited is full of people that haven't even been convicted. An entire room of 100+ people that could potentially be found not guilty, living as prisoners in pretty challenging conditions – for an average of 1-3 years because they can't afford bail (which is typically around $50 USD).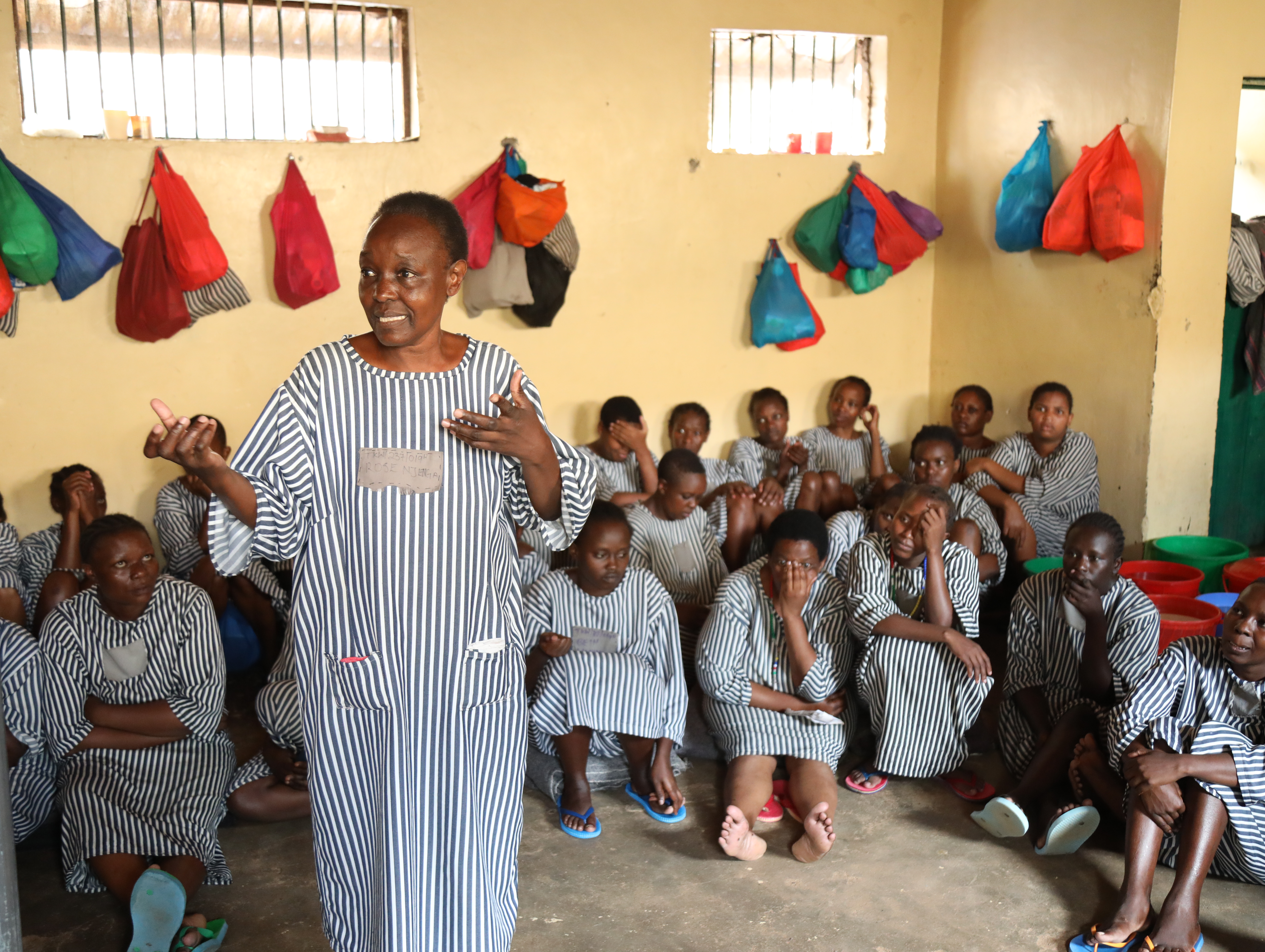 But what may have surprised everyone the most is the camaraderie and shared family-connection between prisoners and guards. APP also helps bring these two groups together as you'll often find guards and inmates studying and working together through the program…and even dancing together as we got a send-off at the end. 
One of the immediate needs we heard about from the prison was access to clean water. After digging in, we came to understand that this was simply a function of the small number of tanks available onsite.  Mavericks quickly mobilized to raise the funds and with the help of local members, Samit and Taran Gehlot, we're happy to say that the wheels are in motion and the Thika prison should have clean water very soon!
After seeing the impact of the work that African Prison Project is doing in the prisons, Virgin Unite and Maverick will also be contributing $10,000.00 of the proceeds from this trip towards opening a stand-alone legal clinic at the maximum security Naivasha prison. This project is still in need of additional  funding for the building, office equipment, admin and operations. Please contact us for more details or how to contribute.
Elephant Encounter 
After an intense morning, we made our way down to the Sheldrick Wildlife Trust (Sheldrickwildlifetrust.org), best known for protecting baby elephants and operating one of the most successful orphan elephant rescue and rehabilitation programs in the world. 
Day 2: Living Goods, Nai Nami and Africa Yoga Project
Living Goods: Community Health Empowered Opportunities
Yanik was first introduced to Living Goods (LivingGoods.org ) doing research while writing the Evolved Enterprise book. He loved the model of providing economic empowerment opportunities to health entrepreneurs to deliver lifesaving products to the doorsteps of the poor. It was like an Avon model but used for delivering life-saving health benefits.
We were able to get an incredible "show and tell" explanation of the ways they are empowering their community health worker (CHW) to be able to support every rural community. 
Armed with a tablet and a powerful CRM on the backend, these local women and men are transformed into frontline health workers who can deliver on-demand, life-saving care to families in need. 
They go door-to-door treating sick children, supporting pregnant mothers, counseling women on modern family planning choices, educating families on better health, and delivering high-impact medicines and health products. A rigorous 2014 study in Uganda found with CHWs support, they decreased child deaths by 27 percent for less than $2 per person annually.
From Streets to Significance: The Nai Nami Tour
We walked into a downtown hotel lobby bar and seated in front of us were a 6 young men that were stylish and cool, a little bit like a gang but not quite. Nobody knew what we were doing there or what this was about until one of the leaders explained that each of these young men at one time lived on the streets and grew up in the slums until they found another option with Nai Nami. A way to create an honest way of living…and even thriving.  
This was their story.
Nai Nami is a social enterprise created to help former criminals become respectable and admired members of their communities, proving that it's possible to make a living without crime.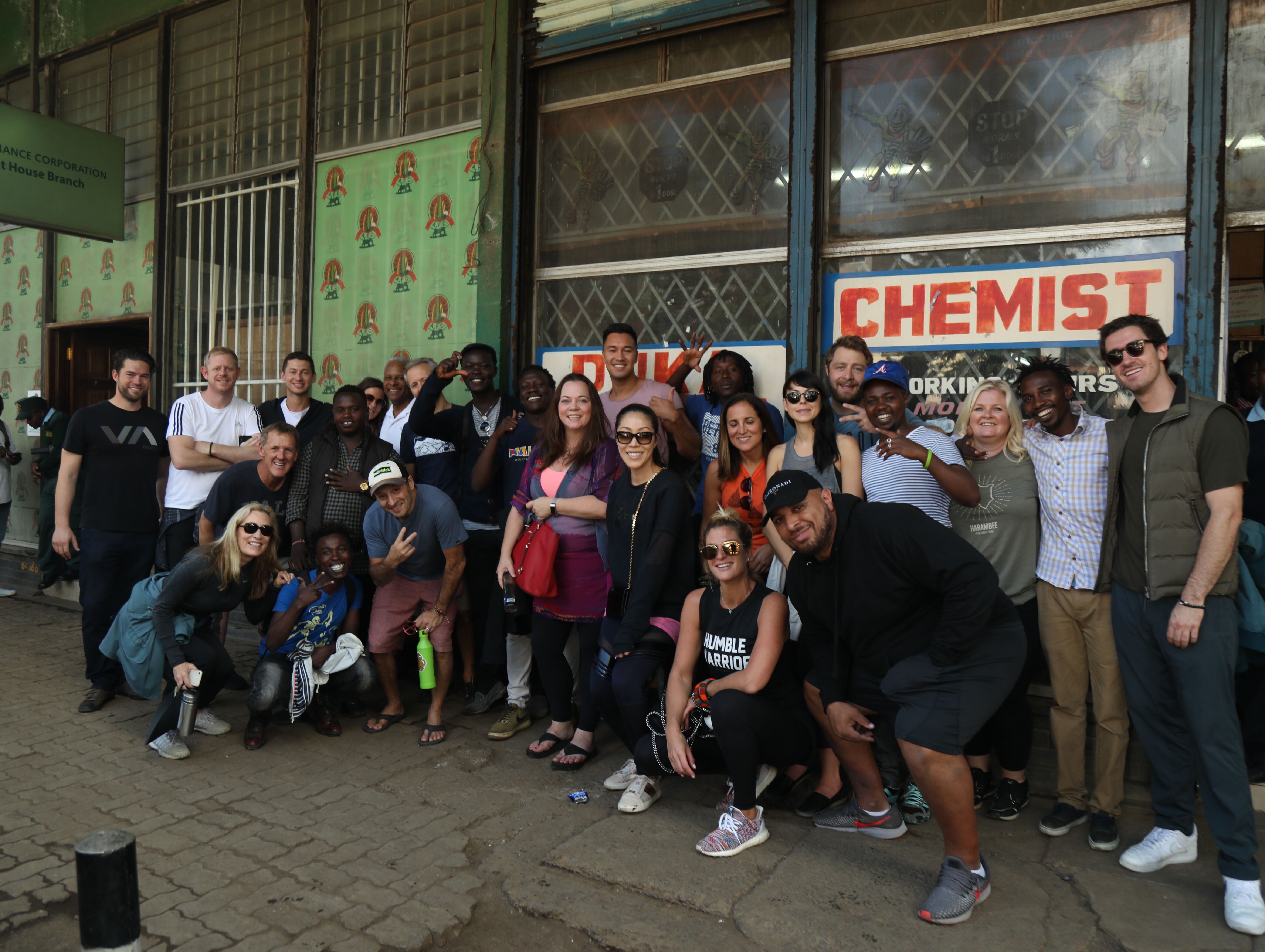 Not only did we get a chance to walk the streets of dynamic and vibrant downtown Nairobi, but we were able to connect with these amazing young men in a deep and meaningful way during this unique storytelling experience.  The stories and the sights are intense, punctuated with heart-crushing trauma, loss and suffering yet sprinkled with humor and smiles. We definitely left inspired and touched with a tremendous amount of respect for these young men, their hustle, shining personalities and beautiful hearts!
Yoga as Community Connection Tool
Next we visited the Africa Yoga Project (Africayogaproject.org) to learn how yoga has transformed and brings together hundreds of communities of all socio-economic backgrounds.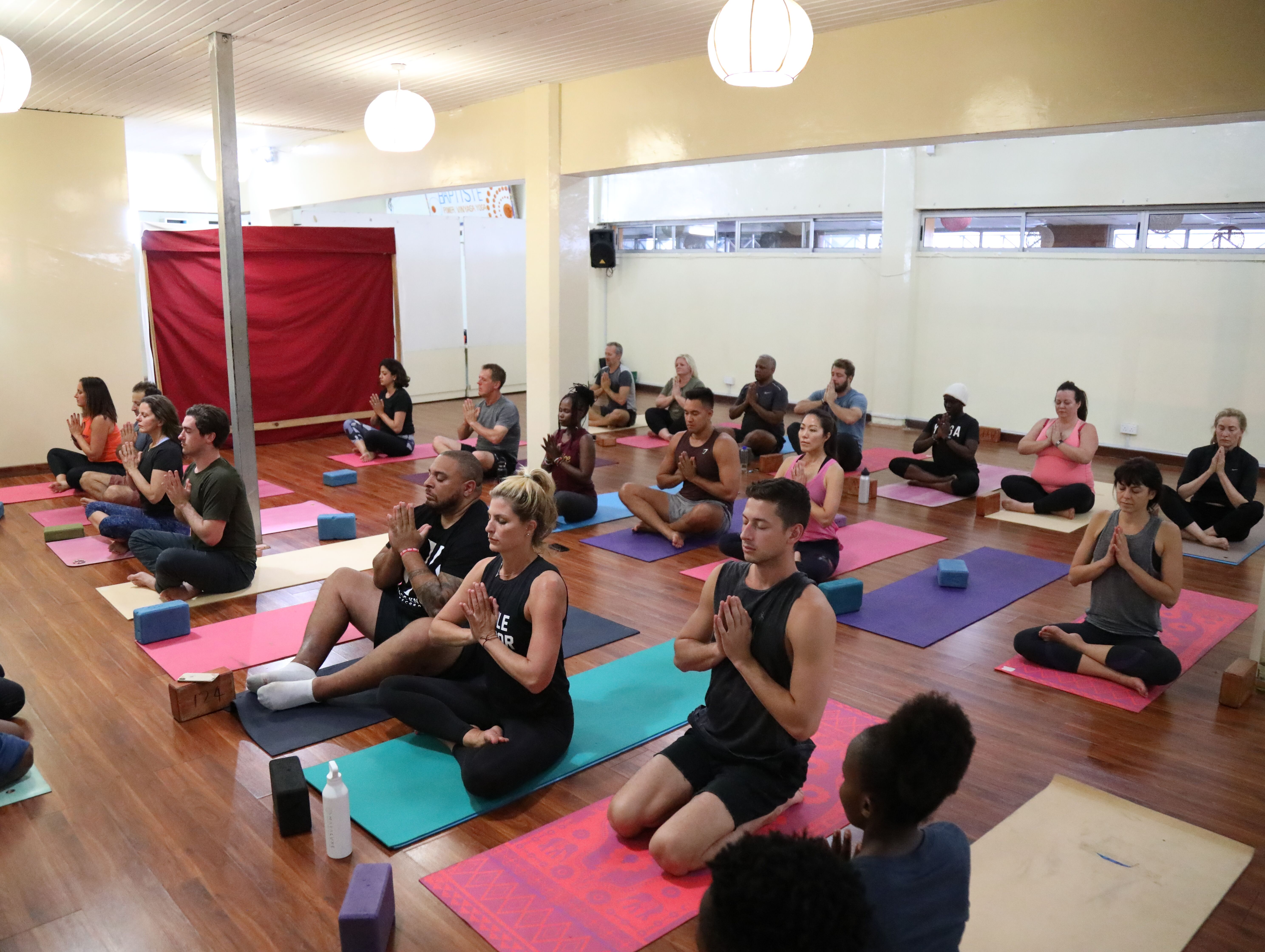 The idea is simple, provide yoga teacher training to help provide success skills, a living wage and new opportunity to those who wouldn't normally have one. The trained teachers are then encouraged to provide free community classes where they've "come from." Over 6,000 people participate in more than 360 community yoga classes taught by AYP teacher representing 19 different African countries.
Mavericks even took a yoga class instructed by a deaf teacher with diversity and inclusion being part of the core values for the Africa Yoga Project. 
Day 3: Bush Bound: Mahali Mzuri
The next morning Mavericks headed out to the beautiful Maasai Mara Reserve to meet Richard and experience his beautiful luxury safari camp, Mahali Mzuri. 
The safari started the moment we arrived as we encountered  lions, leopards, elephants and giraffes on the way in.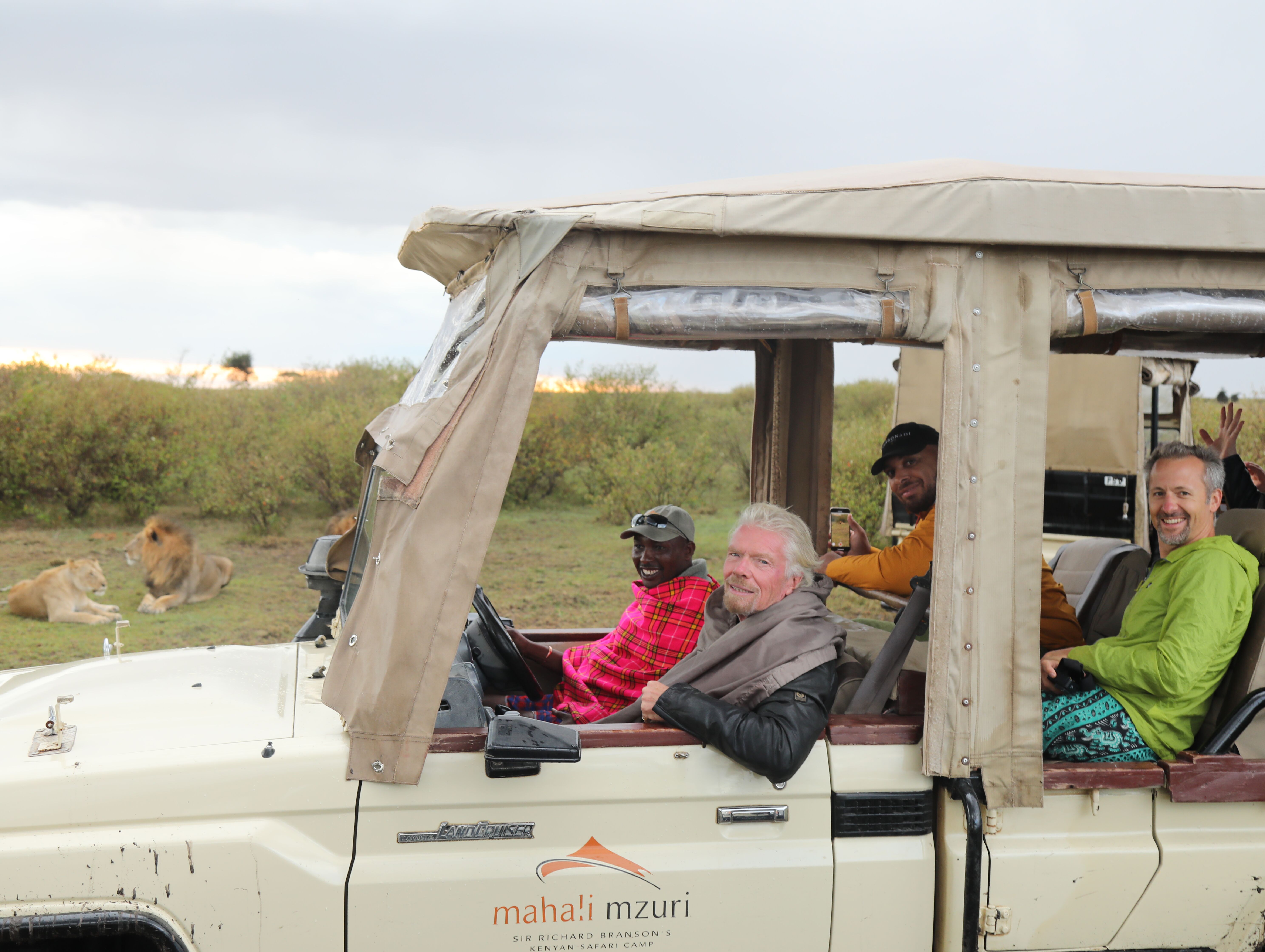 Each day Mavericks were engaged with Growth Sessions where we shared ideas, impactful conversations and insights. 
We connected with the land to see how we can learn from the radical abundance and interconnection of nature and had discussions on a variety of topics such as  longevity, relationships, business and our responsibility for future generations (4-7 generations) to be stewards of this planet by evolving even more purpose in our companies.
And, of course, we had a bit of fun…
Mavericks brought Día de Muertos in the bush, and we're pretty sure that was the first time it was ever celebrated there.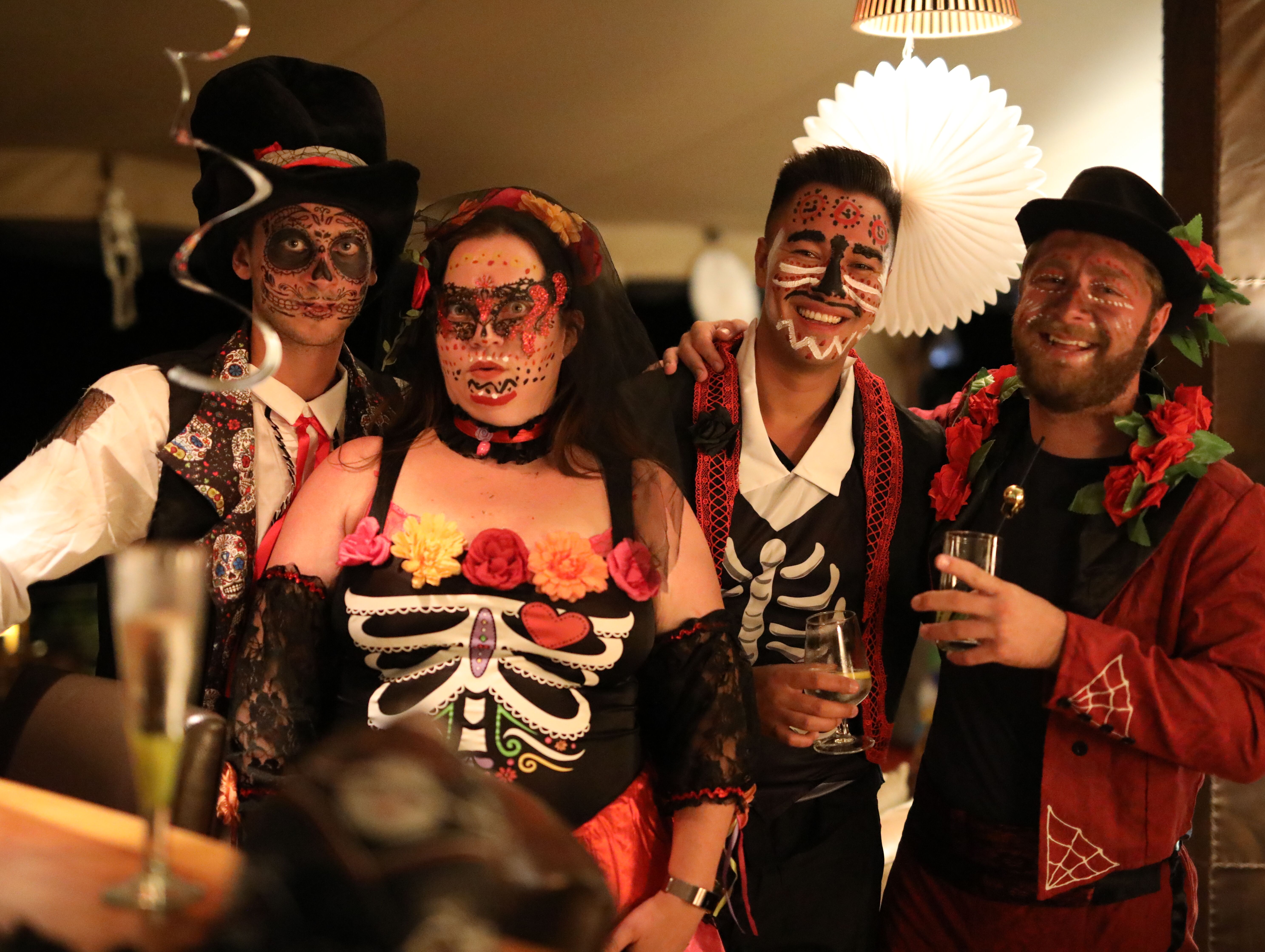 The morning session was all about our ancestors and in the evening everyone was clad in traditional Día de Muertos costumes. 
Lost Bets and Surprises
The World Cup of Rugby championship happened to occur while we there with England facing off against South Africa. England had played incredibly well to beat two very good squads to get into the championship.
One of our guests, Ben Croft had a little surprise for Richard with custom England jerseys for both of them to wear.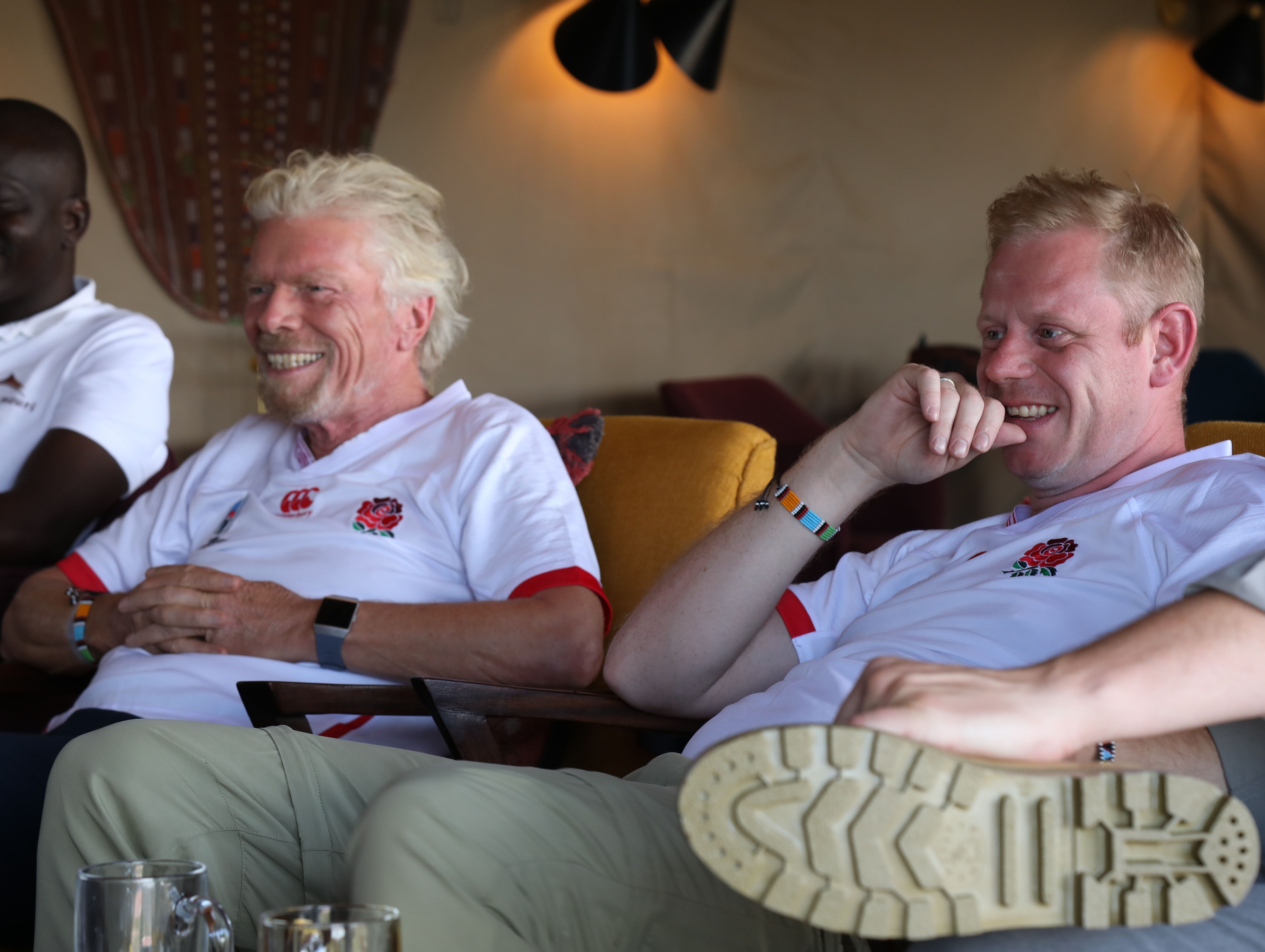 Yanik decided it would be more fun to have a little wager on the game. He took South Africa and bet that the loser would have to don the infamous Maverick green speedo on the next game drive.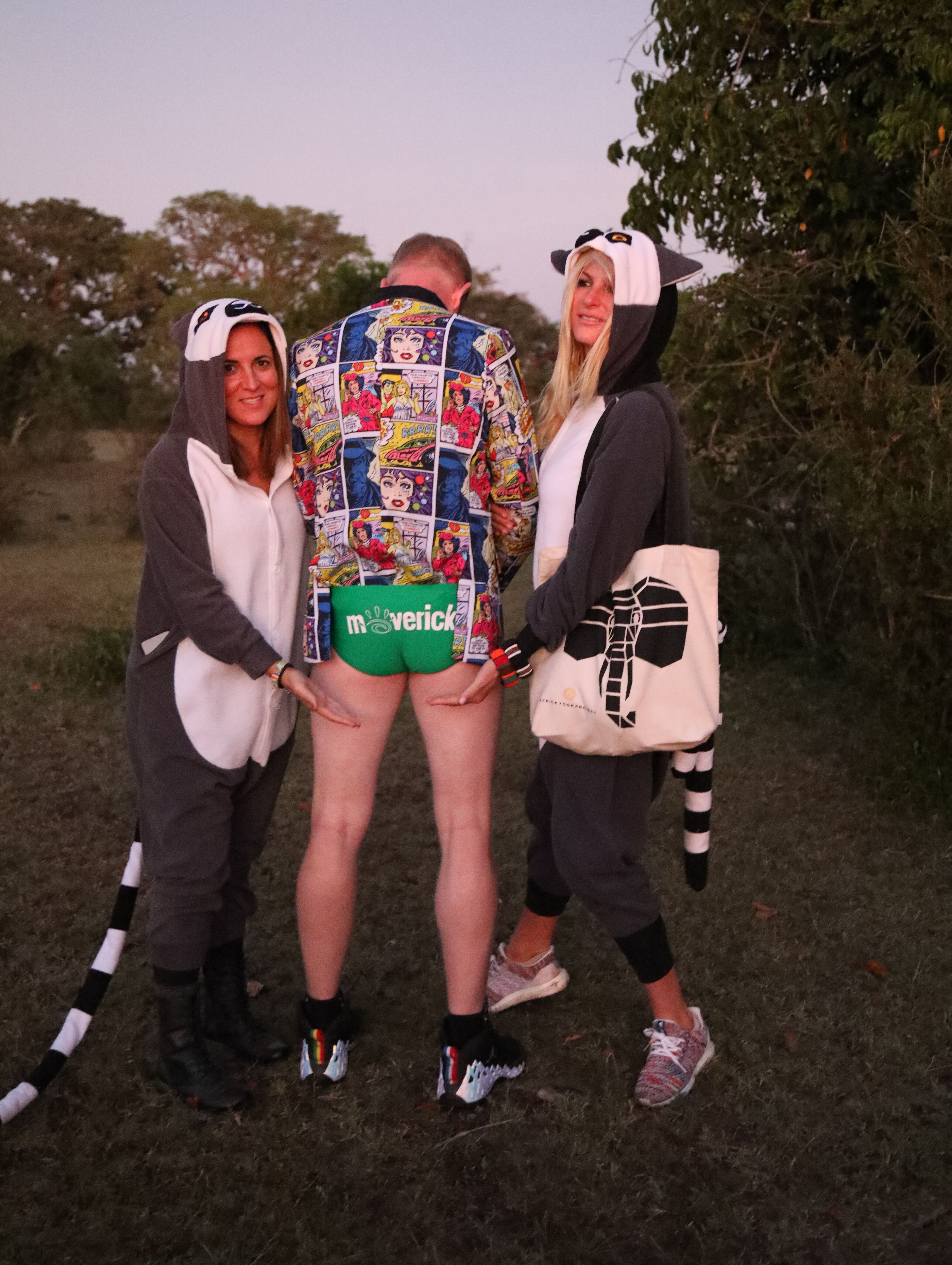 The next day, Mavericks took to the skies for an early morning balloon ride with Richard actually piloting one of the balloons, making sure his group came within inches of the ground…just to keep things interesting, of course. Sophia and Stephanie Farr also decided to bring a bit of Necker to the bush that morning by donning their best Lemur get-ups that morning!  It was a totally different kind of game drive, soundlessly soaring above the majestic Mahara, lemurs in tow..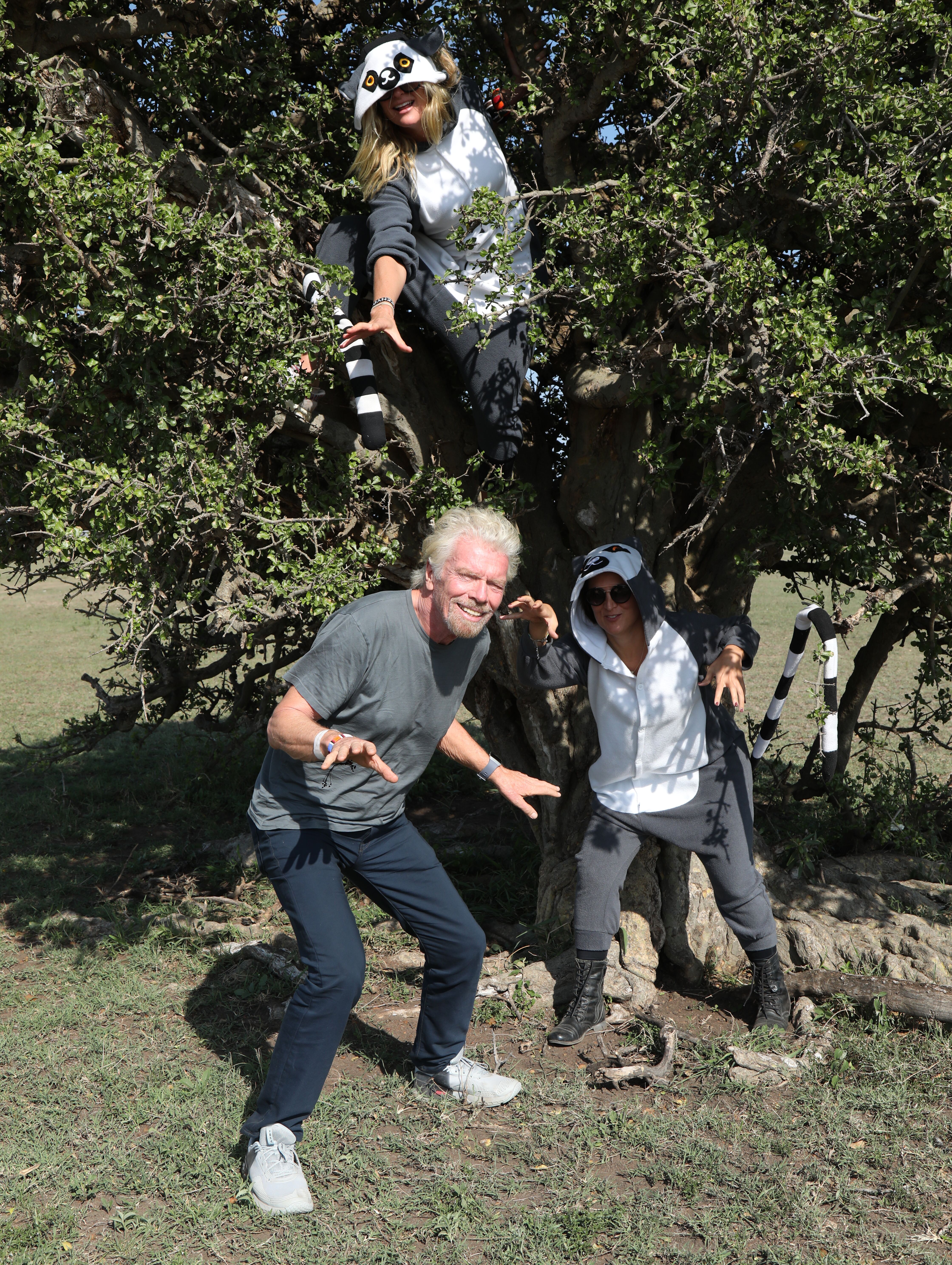 Community Connection
On our third day in the bush, we ventured out to see different community projects being developed by the partnerships of Maasai and the lodges. 
Mahali Mzuri itself and the entire region are an excellent example of Evolved Enterprise thinking creating a win/win/win for everyone across the board. 
One of the issues facing this region was the number of fences being put up by the Maasai to herd their flocks of sheep and cows. The problem was this created a barrier for the annual migrations, where millions and millions of animals travel through the area. Coming together with 277 Maasai landowners and five tourism partners, a solution was created encompassing 13,500 hectares named the Olare Conservancy.
This land is leased at a more favorable rate from the Maasai landowners and the community also provides job opportunities in tourism and conservation management. Plus, there is an emphasis on supporting community initiatives that we got to experience touring the water projects, medical facilities and schools.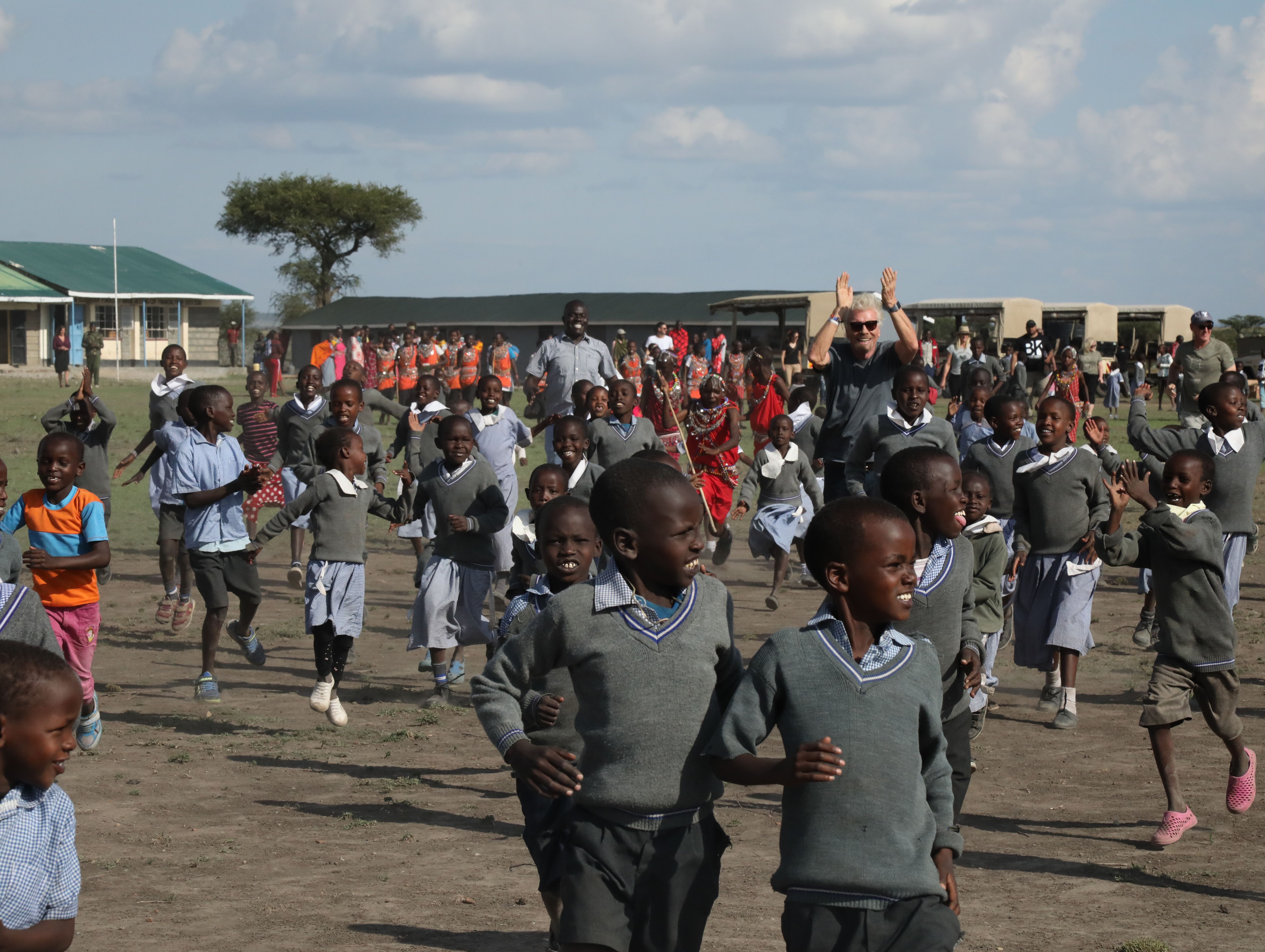 Visiting the kids at their school was a highlight for so many of us. Many Mavericks participated in the Pack for a Purpose program which encourages visitors to utilize some of their luggage space for much needed supplies. We were greeted with lots of smiles, hugs, dances and high-fives. 
Maverick Classrooms
With the community thriving there is a need to have more schools, with a larger capacity. The idea was to build three more classrooms ($10K each), in order to have one for every grade of elementary school as well as the kindergarten. Well, thanks to a collaboration by Richard and a few of our guests – this project will be underway shortly!
1-Degree Network
On the final day, we planted the seed for the project I've been thinking of, dreaming about and journaling on for 5+ years with the mission of nudging the consciousness of the world by 1-degree through the leverage of business. This will be incubated in 2020 because our world needs it more than ever. There's no time to waste.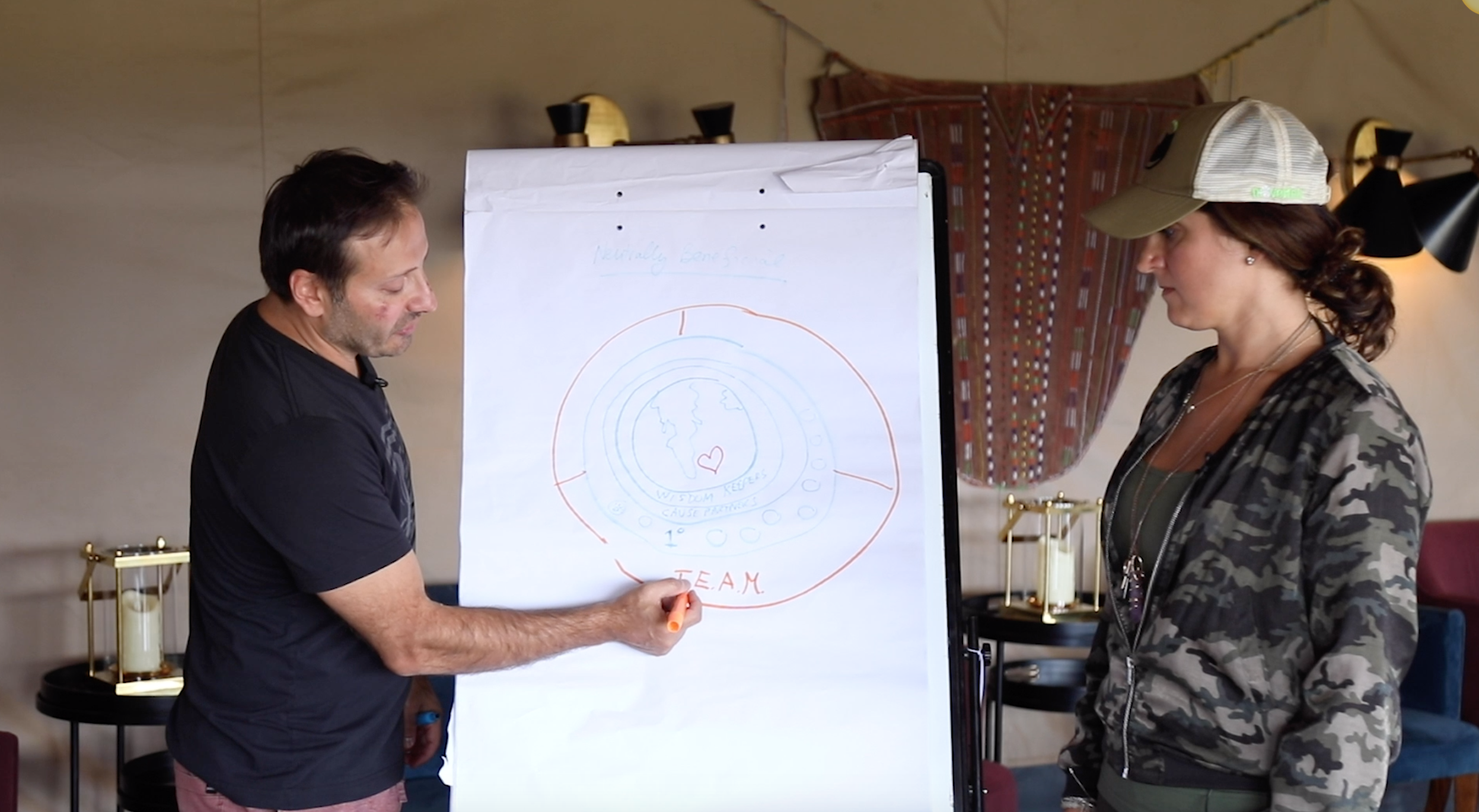 We think one of our guests, Bernadette Doyle, summed up the essence of this experience best as she kept asking, "How can it get any better than this?" But it did as more surprises from bush dinners and breakfasts to incredible animal encounters, meaningful conversations and Maverick magic kept taking place.
Who shows up? Maverick members are industry leading entrepreneurs that are committed to continuously growing themselves and their businesses while creating an impact in the world and having a little (or A LOT) of fun in the process! 
Our roles are to catalyze the catalysts and help leading entrepreneurs utilize their skills and resources to make a difference in the world. In fact, that's what has always drawn our two organizations together. Richard and Maverick have a shared belief that business can be the greatest lever to make a difference in the world tackling serious issues – without taking yourself too seriously.
More details about Maverick here – www.maverick1000.com
Want to be considered for the next Epic Impact Experience on Necker Island? Check out www.maverick1000.com/necker