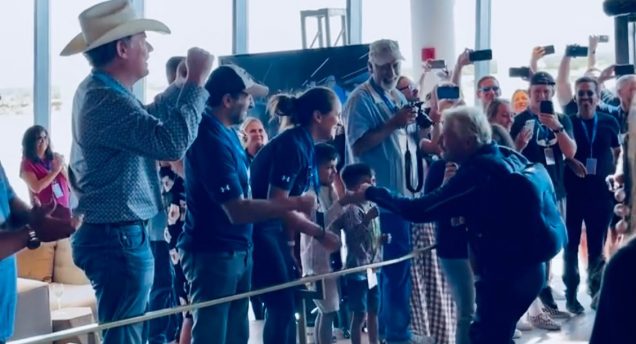 When you get a last-minute invite to join Richard Branson for his first space flight, you re-arrange your schedule to make it happen. So it was back to New Mexico again for Sophia and I after previously being there for our Maverick Summer Solstice Summit.
Getting to Spaceport is in the appropriately named town of Truth or Consequences and one of the truths is it's definitely not the easiest.
However, when you can witness a little bit of history in the making – you do what you can.
This has been a long time coming and quite a journey
As you might know, I've been a Virgin Galactic ticket holder for many years, fourteen to be more exact.
Fact is, I've followed the program since it began with the very first X-prize created by Peter Diamandis. (We actually had Peter at a Maverick event and he shared the story of how the prize was born out of his own frustration and deep desire to go into space. It's a great example of pursuing your deepest passion without a clear roadmap of how it can happen. My friend Nick Nanton created a documentary celebrating Peter called "Visioneer" that's worth checking out.) 
To set the stage; The X-prize was awarded to a vehicle that goes to space twice in two weeks, with that company receiving ten million dollars as the prize. The prize was won by Scaled Composites and then Richard Branson and the Virgin team quickly licensed the tech to become Virgin Galactic.
Once tickets were going to be on sale, I registered my interest on the Virgin Galactic website. However I was one of 40,000 people who did the same thing and their team had no idea who was really a prospect and who wasn't. Somehow I never got contacted.
The Magic Zero-G flight
Now fast forward two or three years later and I'm taking a group from my Mastermind to play in Zero-G with me.  This is where a specially outfitted 737 flies parabolas and imitates different lunar, Martian and zero gravity environments. It's only for about 30 seconds each time – but the smile on your face goes from ear to ear as you bounce around in zero-gravity just like space.
Our plane had some mechanical problems and the crew would have logged too many hours so we had to wait to swap out for another team. We finally get onboard again and I start talking to my new seatmate about Zero-g and then to the topic of space. Within a few minutes, I shared that Virgin Galactic never responded to me and she told me adamantly, "Oh don't worry, I'll make sure they take your money."
Haha! And who was sitting next to me? 
None other than Loretta Hildalgo Whitesides who is very active in the space community herself plus her husband, George Whitesides, ended up being the CEO of Virgin Galactic itself before switching roles recently for their next phase. The odds of me meeting Loretta like this seem pretty astronomical and the synchronicity of this moment is never lost on me.
So I put in a good chunk of cash and was officially in. (Funny side note: I promised my wife, Missy, I wouldn't touch our savings and I didn't because I ended up selling a workshop to pay for my spot. I was just sharing this with a high-level group of copywriters about how you can write yourself pretty much whatever you want with this skill. I haven't taught copywriting in quite some time but I'm considering doing a Cosmic Creativity exploration. If you want to know more make sure you sign up for the Cosmic Tuesday emails here.)

Okay back to our story.
At this point, I'd never met Richard and was thrilled to get this letter kinda from him: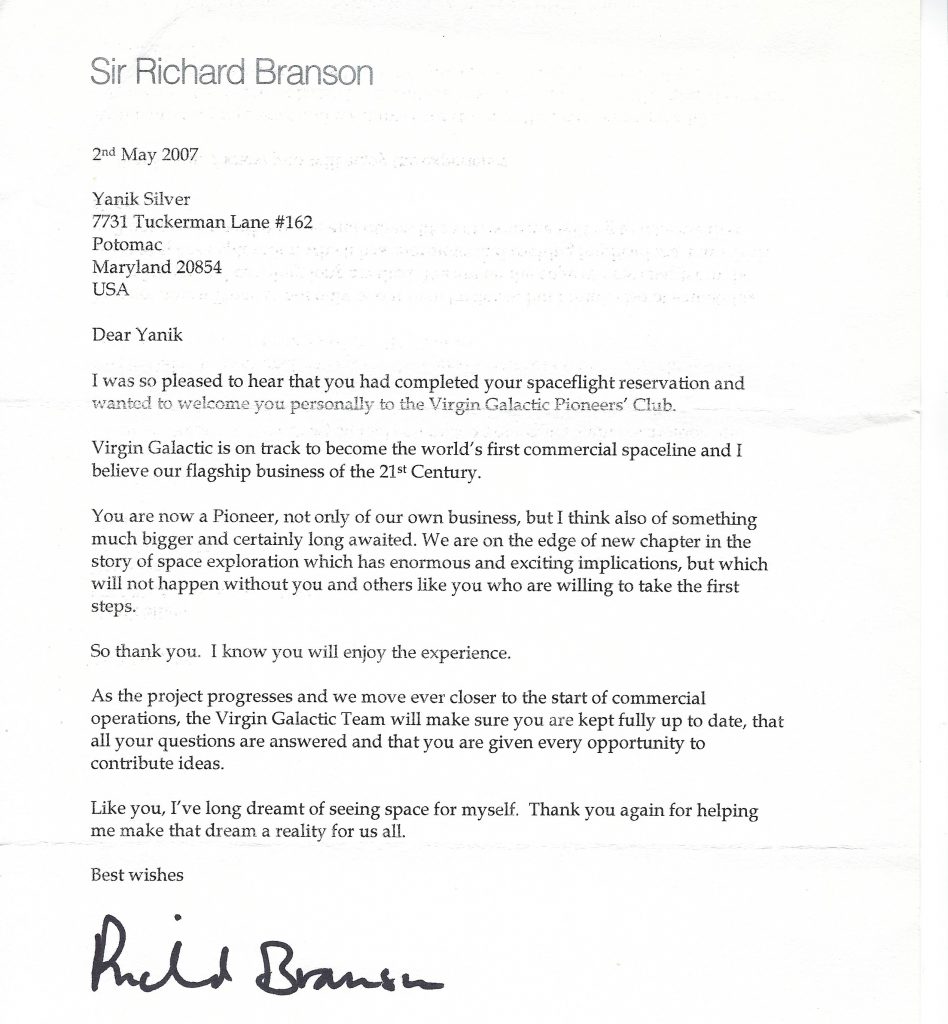 Nobody thought it would be this long but throughout the years Galactic has continued to send all sorts of gear and interesting gifts. The very first item you get is an epic 2-foot tall book detailing spaceflight history plus incredible high-resolution pictures of that X-prize winning flight. I've never seen a book this size or this impressive. (In the bottom picture is an oversized publication so you can get a little bit of a relative feel for how big this book is.)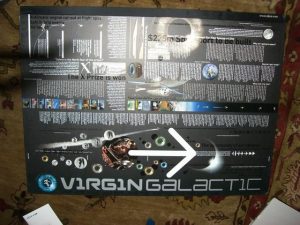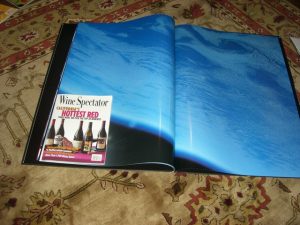 And we got a cool model of the ship that Zack promptly started to fly around the house.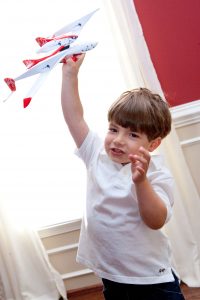 That might have been a collector's item but little kids and fragile models don't really mix well. 😉

Magic and Tragedy

The program hit more milestones and more magic unfolded including the unveiling of Spaceship Two literally on my 40th birthday, exactly September 25, 2013!  But then a tragedy struck nearly one year later on October 31, 2014. Spaceship Two VSS Enterprise test flight disintegrated midair because of an error activating the feather mechanism too early.
I remember hearing about that accident while eating lunch with futurist Barbara Marx Hubbard, literally discussing how she'd want to meditate in space to send back an evolutionary activation to everyone on Earth. I started tearing up and crying as I got the news from Missy via text.
It wasn't because, "Boo hoo, it'll take longer for Yanik to reach space," but because of what I believe space means for humanity. And I'm not alone. Inside each person's spacesuit is a quote from famed cosmologist and physicist Stephen Hawking, which reads:
"Taking more and more passengers out into space will enable them and us to look both outwards and back, but with a fresh perspective in both directions."
The good news from the disastrous crash is there is a better fail-safe mechanism now installed for the VSS Unity and Richard himself always wanted to prove the safety of the spaceship by flying himself on one of the earliest flights.
And on July 11, 2021 that's exactly what happened.
All of us had quite an early wake-up call with buses leaving from the hotel at 3:15AM. Yep – brutal but I was pretty excited and ready to go!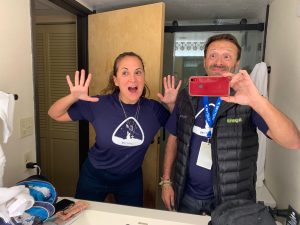 Several other Mavericks were also invited including John Ratliff and Ben Richter who have been with us to Necker multiple times. (Note: Necker is on again and can't wait to host another gathering there for Mavericks and visionary leaders. This will be our 11th or 12th year there. If you'd like to apply and get more details please go here.)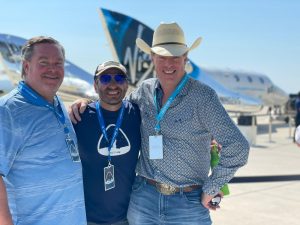 The amazing part was getting to see everything from the "inside."
There was a bigger part of the Spaceport set up for media (200+) plus special invited guests and future astronauts. You were still pretty lucky to get inside there, but we were even more fortunate to be invited to witness Richard's flight right alongside his family, close friends and key partners in another section of Spaceport.
In a surreal way it seems like a regular Sunday morning for Richard.  He was just eating breakfast as we walked in to give him a good luck hug. And Richard being Richard actually thanked us several times for being there!

There was a lot of energy swirling around.
Getting to to talk to Richard's daughter, Holly, the next day she said she was vividly reliving many of the emotions she felt when she was just a kid and her dad took on so many adventures and even had his near-death misses. You could see this mixture of excitement and nervousness from a lot of us as Richard and the rest of the flight team walked out to their Land Rovers taking them to the ship.  (Pretty good sponsorship opp for Land Rover!)

3…2…1…Release…release
I brought my big binoculars (which took up like 1/3 of my carry-on luggage) so I could see the flight directly instead of just watching the livecast playing there. I got goosebumps watching VSS Unity disengage from the mother ship and fire up its rocket engine going straight up.
Once it was out of my sight I went back inside to monitor the flight status and transmission feed. I loved the fact that as the ship reaches space, Richard relays this message:
"To all you kids down there. I was once a child with a dream looking up to the stars. Now I'm an adult in a spaceship with lots of other wonderful adults looking down to our beautiful, beautiful Earth. To the next generation of dreamers, if we can do this… just imagine what you can do."
And then he unclips to go play in Zero-gravity followed by a few exclamations of "Incredible" and "Oh my!" 
Then we welcomed him back to Earth with fist bumps and huge grins.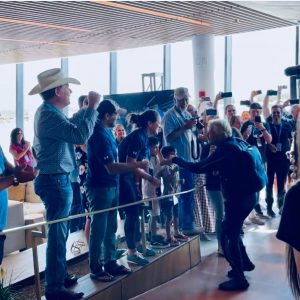 Next it was off to the main stage for the beautiful astronaut wings celebration and a few remarks. I'd say it's definitely pretty fun to be so close you get some of the celebratory champagne sprayed on you!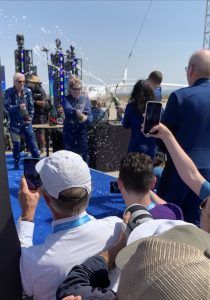 Everyone at Spaceport was so excited and happy as we hugged each other and high-fived watching this historic flight – but then I started seeing some other takes that had a completely different energy.
The question is: why shouldn't billionaires like Jeff Bezos and Richard Branson use their resources to solve problems on Earth instead of "wasting" money on space or catering to a bunch of "rich space tourists."
As the Stephen Hawking quote said, there's something bigger here than simply boasting about being an astronaut at the next cocktail party. There's something called the Overview Effect that previous astronauts have talked of that happens when you see the Earth without borders and floating against the inky blackness of space. You start seeing how precious and beautiful our home really is and many are moved to do more to steward it.
After the first space missions, an American writer, Steward Brand, pressured NASA to release an image of the Earth taken from outer space so others could marvel at this blue marble. This became the inspiration for the "whole earth," essentially the bible for all things green and eco-friendly. 
There's no doubt there is much work to be done on Earth, however we need to look at the entire planet as a whole and these kinds of moments lead to a more holistic expanse. I believe this new space focus will create a greater evolutionary pull towards greater cosmic consciousness. That's obviously where I get excited.
Maverick Space Flight?
There's also some talk of having a Maverick spaceship charter. I know there are 2 or 3 members seriously talking about it. Or if you don't want to spring for the ticket yet, you can enter to win 2 spots via www.Omaze.com/space
As all of this unfolded I imagined myself going up. I'm ticket holder #144 so if they do one flight per month, the timing might work out to be flying on or around my 50th birthday.
You're all invited and champagne's on me! 
Sic Itur Ad Astra