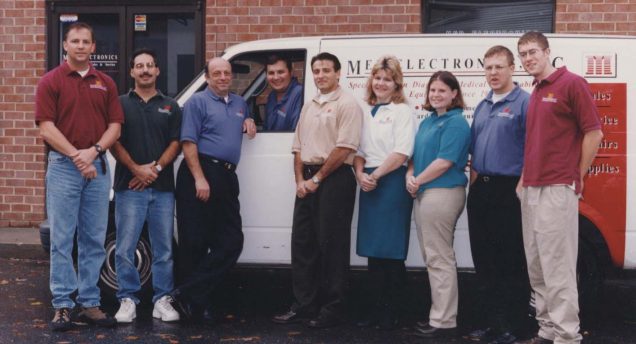 This month of July 2014 marks the 15th year anniversary of being in business on my own.
My father reminded me that this month is also his "Independence day" since that's the date our family came over to the United States from Russia. (The exact date was July 3, 1976 – pretty cool since it was right before the bi-centennial celebration.)
I thought this would make a really opportune time to share the back story and a couple interesting anecdotes from this journey.
And as a reward, you'll really get something cool for sticking around. You'll have a chance to literally pick your own price for some of the best resources & tools that I've developed over the last 15 years that have helped so many people. (If you want to skip the walk down memory lane and lessons learned you can fast forward straight to the 'Pick-your-price' auction here. But you'll miss a few funny pics!)
Where it Started…
I still remember the day I left my father's business 15 years ago to work on my
own. It was by far one of the hardest decisions of my life. You see, I had worked for my dad since I was 12 and he thought I was going to take over the company. I had that same thought as well until I got the "bug".
In fact, my wife, Missy, reminded me that when she met me, I had only one thought: "how to grow my father's business". I would stay late working on new ads and marketing pieces. I was in early, calling my accounts trying to make sales, etc. etc.
Here's a pic I found of me and the very first team of Med-Electronics: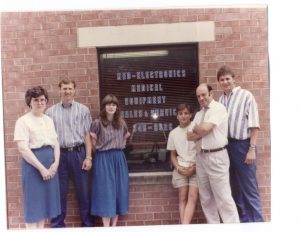 Looking back, I can see I showed some advertising and marketing promise early-on by creating a private label line of X-ray film called 'Ultimate' that we trademarked. It was one of our top sellers for years and years.
However, one of my 'synchro-destiny' moments, came when I furnished a surgi-center for one of my doctor clients, Nathan Wei, MD. He's one of the top osteoporosis doctors in the country and by outfitting his whole office we got to develop a friendship. He shared with me a Jay Abraham cassette (yes, cassette) program. It was all about optimization and using direct response.
It just turned on the lights for me.
I had always been interested in advertising and marketing but this was a whole new level. I would study, read and learn direct response marketing, psychology and copywriting for 2-4 hours per day. It was fascinating to me to see how we could write words and have somebody respond.
I was probably 18 at the time and pretty lucky that I learned early on how powerful this expertise could be. I hated cold-calling and knocking on doors and I figured learning everything I possibly could about copywriting was my ticket out.
As you might imagine – something new is not always greeted with open arms.
I remember handing a new ad I'd written over to my dad for his review. I'd usually get an answer like this in his thick Russian accent, "Who's going to read all that?"
They did.
And more importantly they bought.
Developing my copywriting skills completely transformed the way we did business from a small, regional supplier to being able to compete nationwide against companies 10x our size. We had figured out exactly how to sell complicated pieces of medical equipment without being face-to-face with the doctors. (BTW – many of the ads I wrote in 1998 and 1999 worked for years and years after I left, responsible for hundreds of thousands of dollars in sales.)
Here's an example of one of those ads from back in the day: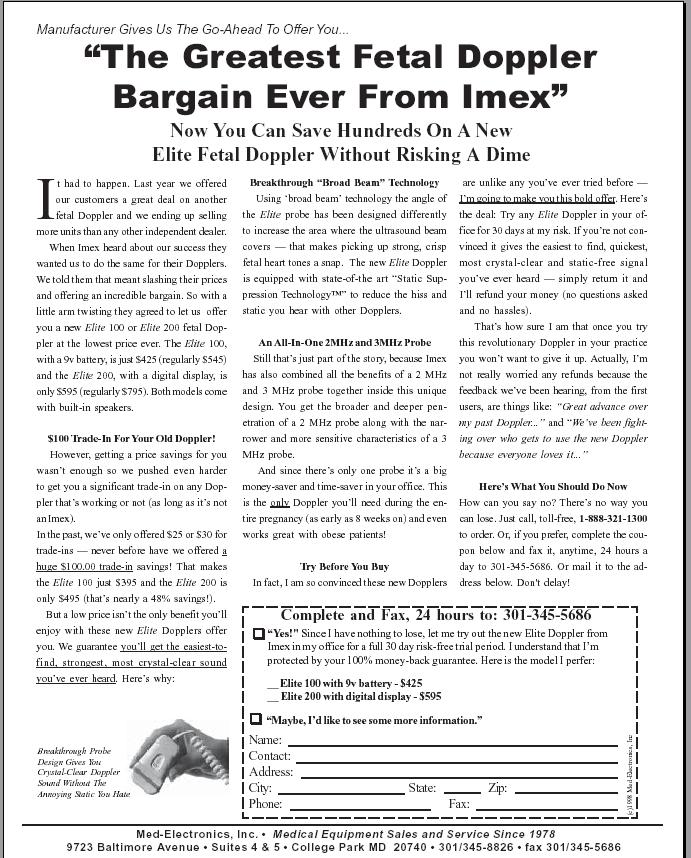 But with every ad I wrote I was getting more and more aggravated.
Not because the ads weren't producing sales – they were – but because of the grief and politics I had to deal with. Everybody seemed to be an advertising expert even though they've never studied or read anything on the subject.
Friction creates a positive change
Looking back that kind of friction was actually positive since it forced me to move towards creating my own ads for something I owned.
My first product was to help Dermatologists who wanted new cosmetic patients. I picked Derms since I had been directly working with one of my clients, Dr. Finzi, to help them with their marketing and advertising. They were seeing some really good results and I realized I had no leverage just doing more consulting. I thought I could package up everything into a big kit (manual, tapes, reports, diskette, etc) to sell.
I had started learning about the world of information marketing from mentors like Dan Kennedy and Ted Nicholas at the time. I had no idea how far and wide 'publishing' could take me.
Side note: The really interesting thing is the Universe always provides you clues to your bigger role. When I was 8 or 9, I created a comic book called 'Big Nose Fred' with my best-friend Jamie. It was a very crude, early cursor for what lay ahead. And I was able to find this picture of another comic book I created when I was 12.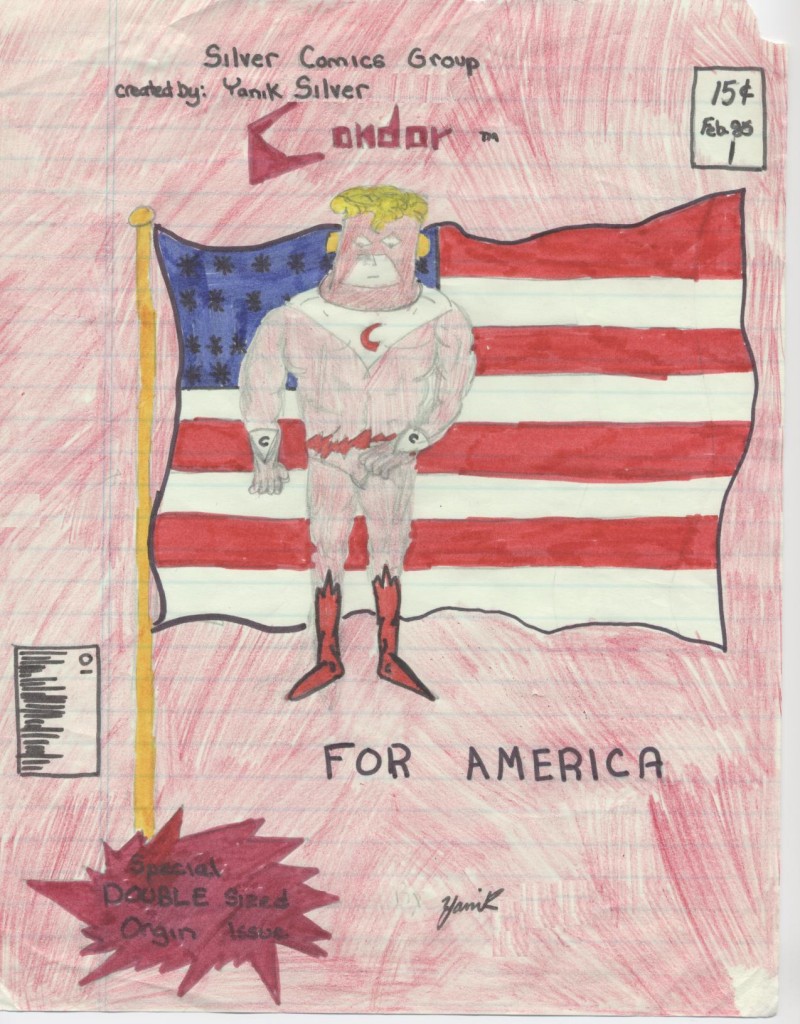 The Real Start of My Publishing Business
I ran my first ad in April 1998 in Dermatologic Surgery magazine. I don't think this is the exact one – but pretty close: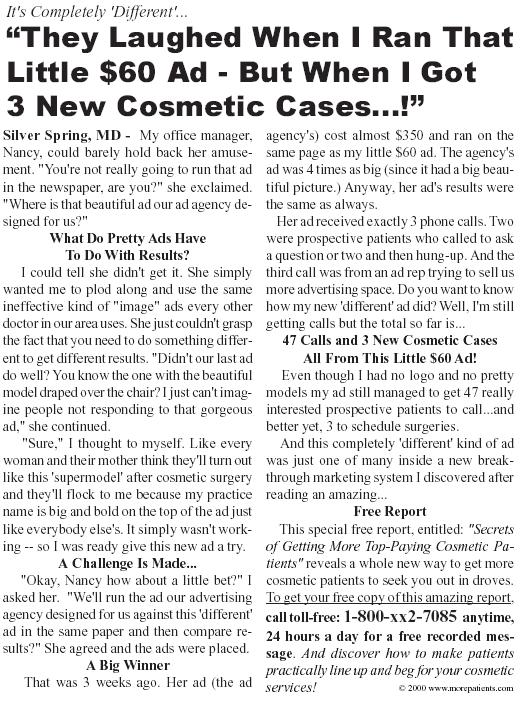 I got 10 responses so I sent them the 20-page sales letter I'd written selling this $900 kit. Not one order.
I waited…
Sent out a 2nd notice to those 10 respondents.
Nothing…
Then I sent a 3rd notice telling them the expiration date to get all the bonuses was only 10 days away. Finally on the very last day of the expiration date I got one order
over the fax machine.
Yipeee!!
I still remember that doctor's name in Flushing, NY. What an incredible feeling. That was the start of my independence. I realized I now had the power to chart my course as I wanted. That first sale. That's one of the greatest feelings in the world – when something you've created is sold. It took me a little over a year after that first order to realize I needed my own thing.
I wanted my freedom and I finally quit on July 1, 1999.
Maybe it's the new confidence you get when you realize you've created something that people want and are willing to exchange money for. That first sale is usually the hardest (but also the most rewarding).
From there my journey has taken me to all sorts of places.
That initial taste of selling information helped me come up with an idea at 3 o'clock in the morning that turned into our top-selling InstantSales Letters® product. Missy told me to go back to bed since entrepreneurs have ideas almost every waking moment. I literally jumped out of bed to work on the site to register the domain.
I really had no tech skills or anything like that and I definitely overpaid to get my sites up and out. (Right now there are so many incredible tools that make doing business online way cheaper.)
Here are daily deposit screenshots back from 2000…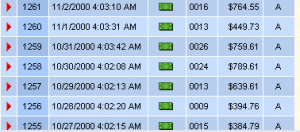 I started all of this in little 1-bedroom apartment. Yes, I know it sounds like infomercial territory already. Sheesh! It's pretty funny how these small beginnings lead you to a whole different path.
Actually it was a little while after I launched this first site that Missy got laid off. So it made sense to bring her in and we both worked out of that 1-bedroom apartment. (She worked in the bedroom and I was in the living room.)
The cool thing is after all these years – Instant Sales Letters is still selling (not as well as it used to but still get orders). It was my first product that grossed $1M+ in total, cumulative sales.  The average selling price was about $40 and I think it took me 3 years or 3 ½ years to hit that number.
Starting with that first million-dollar idea in the middle of the night, I've bootstrapped 7 other products and services to hit that 7-figure mark from scratch without funding, taking on debt or even having a real business plan.
An Overnight Success Years & Years in the Making
From that initial success and ongoing ones, other people wanted my help. They wanted to know how I did it.
Well, that turned into a whole different 'career' working with so many incredible people and helping them take their passions, knowledge, interests, expertise and message out into the world by selling content & information.
A cartoonist made this for me, that summed up what was going on: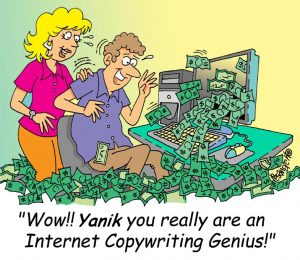 I seemed like an overnight success but not too many people saw the years of studying and learning to get there.
And it was this skill that exponentially helped me figure it out. There aren't too many shortcuts but with the right instruction copywriting can be…
One of the Biggest Foundations for Everything
Looking back, the key component to making these work was always copywriting. That's the foundation for everything I put out there. Because if you can write words on paper or a computer screen – you could pretty much assure your success.
I had a little agreement with my buddy John Reese. He said if he'd put on a small workshop with what he knew about traffic and web marketing, I'd put together everything I knew about copywriting.
Well John fulfilled on his end and I was on the hook to do mine.
The price to get in to my specialized workshop was just a tad a under $4000.00 per person. I kept the room super small so I could work with each student and make sure there really was a formula I could teach. Frankly, I'd never worked so hard in my life preparing and putting together material for this event. (Just the manuals from the event weighed in at 39 lbs and were 1527 pages thick!)
Not that many people could actually teach exactly what they do – but I can. (Or more accurately could. I don't think I could even put on that same workshop today because my literally doing a complete brain dump, I didn't have to hold onto it anymore. I could move on to bigger things.)
I shared every strategy, tactic and tidbit I knew about writing sales copy that works. And at the time I was into 'Harry Potter' and I loved the idea of learning copywriting was the same as magic. It was like the alchemy of turning words into revenue.
I was just starting to theme events and I used a 'magic' type theme originally. Unfortunately, that ended up getting me in hot water with a trademark dispute. Instead of sending a 'cease and desist' or amicably resolving the name, I got a knock at my door with a lawsuit. Not fun!
Long story short, I ended up settling. I actually think I probably would have won but the only person that really wins in disputes like this are the attorneys. I figured I'd rather spend my energy preparing and working on the event than be bogged down with these hassles.
So the new name was the 'Ultimate Copywriting Workshop'.
Not as catchy or fun as the previous one – but it explained it well.
Frankly, I was a little bummed walking into the live event because a lot of the profit was actually negated by my settlement. But I knew if the content was really awesome – I'd make it back 100x. It was. And I did.
I truly think this is the ultimate resource and from the rave reviews of people that have seen-it-all in the direct response world they would agree. Like this quote from a 15-year veteran, Ted Thomas:
"Although I've attended many expensive seminars and workshops in the recent years, yours was the most profitable!…I've been involved in copywriting for the last 15 years and I'm a direct mailer, I've learned more at this seminar than I have at any other.."
And here's what one of my biggest mentors, Dan Kennedy, had to say about me when I trained his audience at his last-ever copywriting workshop:
"…He is the most amazing young guy…His websites are highly effective and profitable thanks to sound direct-response strategy and compelling copy 'tweaked' for Internet use."