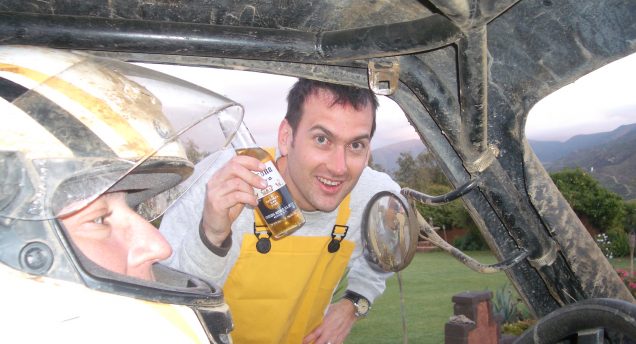 This month marks the 15th year anniversary of being in business on my own. I figured it would be fun to cover a few stories from back in the day and share the inside scoop.
(If you missed Part I – click here.)
Where it Started…
"What the hell do you do?"
That's the typical response I used to get from people. My family and good friends didn't quite "get it" either. I used to say I'm an "Internet Marketer" – but they think I build websites. If I said "I'm an online publisher" – they make me out to be some kind of porn deal. So I never really had a good explanation into the unique world of selling your content online.
My favorite true story was about a year after I had left my Dad's business.
From my success with Instant Sales Letters. I'd been asked by Ken McCarthy to present at an Online Marketing conference in Atlanta. And I was really, really nervous. I almost wanted to puke with the thought of going out in front of 150 people and speaking about what I was doing.
I still remember those butterflies in my stomach right before I was introduced.
Now a few days before the event, I figured I might as well sell something so I came up with the idea 'Instant Internet Profits'. I liked the prefix of 'Instant' since it worked well with my first site.
(Side note: Very good lesson here in naming. By adding the prefix of 'Instant' there was a built-in benefit and easy-to-create sort of connotation.)
This was going to be 'tell-all' explanation of what I did and how I created a 6-figure online business in just a few months. I couldn't believe I found this – but here's the first order form: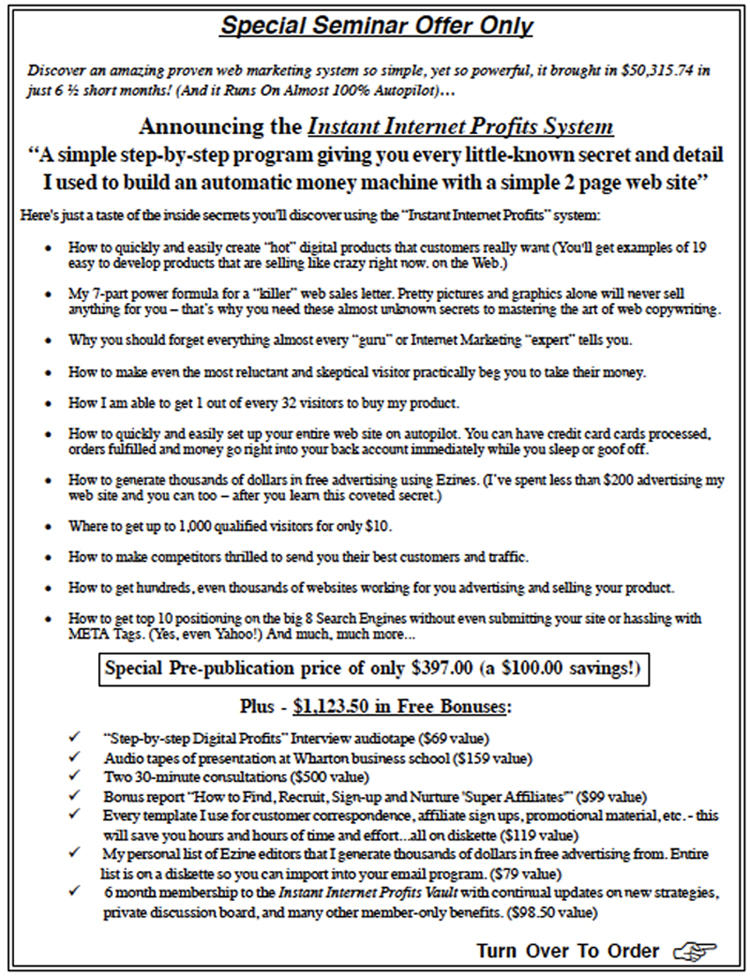 $397? Whoa…
Pretty cheap and it even included private time with me. Oh well, that's not the important thing. The biggest thing here (and another lesson) is I sold this as a 'pre-publication' deal. I told everyone up front that it would be about 30 days to receive it while I created it. I don't think I sold too many and I had to split 50/50 with the seminar promoter – but a couple thousand dollars here started me on my next big push. It gave me the energy and motivation to know someone wanted what I was selling and I was obligated to deliver on it. (Pretty similar to how I did the doctor's manual too.)
Today with different crowdfunding sites like Kickstarter and IndideGoGo – you can do something similar with any idea you've got. You can check the marketplace validation first and foremost before really getting too deep into product creation mode.
So I used those first couple orders to motivate me to create a course that really hit everything I'd done to sell my own product online.
Back to my dad for a moment…
When this first course came out, my dad wanted to see what I was doing. So I remember driving in his car and he popped in cassette tape #1 from the course. He kept driving and listening for a few minutes.
Then he ejected the tape and looked at me and blurted, "People pay for this bullshit?"
Hey, I told you your family might not get what you do.
The Instant Internet Profits course was a really good seller for some time as I continued to refine and experiment with what worked and what didn't online. I had created my own information products on all sorts of topics ranging from art to houseplants and fitness. Even Missy, created 'Instant Thank You Letters' that she would make a regular couple hundred a month from.
There's probably not a single type of information product — I've haven't been involved in it….
I'm talking all price points from a few bucks to $40,000.00+, covering eBooks to Audio to Video to Teleseminars, to Home Study Courses to CDroms to Resell Rights to Software, to Live Events to Coaching Programs to MasterMind programs.
But I wasn't selling these from stage trying to pretend I was actually making the Internet work for me. When it made sense, I got out to meet new people and because I enjoyed teaching. It wasn't ever with the main purpose of selling my stuff from stage. I remember really early on like 2002 or 2003, there really wasn't even an "online marketing" industry. We were all just kind of figuring it out and having fun messing around.
There would be times when all the speakers would congregate after an event, have a few drinks and empty out their pockets of order forms. The totals were small. Maybe 3, 4 or 7-8k. Not much compared to some of hard-sell operations trying to get the audience to bite on a super expensive coaching package they may or may not need. It was just cool and we were all sharing what we were doing as we discovered it.
I would try almost anything to see what would happen because I didn't rely on flying around the country to speak for my income. One time I sold a complete mystery product. The order form basically said trust me for $995-ish. I don't suggest this move.
The 'Internet' Industry Before it Was an Industry
As I got to know a few other online marketers, we'd goof around in the back of the room and just have some fun with our presentations. One game was to see who could figure how to incorporate a phrase into their speech. The best one I remember was simply reciting a list of keyword phrases (from GoTo)  😉  as we were talking about marketplace demand. And the guilty party, who shall not be named, rattled off a bunch of keywords related to mushrooms (i.e mushroom soup, mushroom recipes, mushroom XXX, mushroom artwork, etc.) with our little catch phrase stuck in the middle of his list. It was brilliant. I think there were 1 or 2 audience members who popped up their heads with a wry look. But he won!
Many of the more recognizable names in this space came up together. I remember Alex Mandossian speaking early-on at Ken McCarthy's System seminar and he told us to throw tomatoes if he really stunk. Today Alex is one of the most exceptional and polished speakers and back in the day he was still very good. But I just had to instigate so we got a couple small bushels of tomatoes and chucked them on stage.
Not only was my network growing of other 'up-and-comers' but I had relationships with the 'old guard'. One evening we were at the Venetian in Vegas after a speaking gig. I was hanging out with some of the legendary marketers in the online world like Corey Rudl, Jonathan Mizel, Marlon Sanders and probably a handful of others. (If you have no idea who I'm talking about – look them up.)
The funny thing is I remember thinking in 2000 that I was late to the online stuff since so many of the guys I looked up to had started in '94 or '95.
Now at the time, the mini bars at the Venetian were motion sensored so we thought it would be really funny to just shake Corey's mini-bar around. We hung out in his suite for awhile that night and somehow Jonathan told everybody the story about how so many of Corey's clients, who paid something like $1,000 or $2,000/hr (I can't remember), would frequently hang up the phone and tell him, 'Thanks Rudy'. Somehow they switched his last and first name. We thought it was hilarious and ended up registering RudyCoral.com, who was Corey's evil twin brother. Corey was a bit skinny so his twin was a lot plumper. And Corey's first megahit online (back in like '94!) was Car Secrets Revealed. An info course on how to find the best pricing on your car you wanted to buy. So, of course, Rudy had Motorcycle secrets.
Maybe it was one of those 'you had to be there' moments –but I still think it was funny.
Tragically, we lost Corey way too young. I remember waking up to news on a discussion forum that Corey died in a track accident. It really hit me hard because Corey and I had started becoming close friends and a lot of similarities. (You can read a really nice tribute site to Corey at www.RememberCorey.com and do a search for my name to see what I wrote.)
Just a few months before his accident, we had gone Baja racing together in Mexico. He had grown up racing and was an excellent driver (which is part of the tragedy since he was the passenger the day of the accident.) Corey told me Baja racing was one of the best adventures he'd ever had. So I joined him with my buddy & marketing consultant Rob Olic.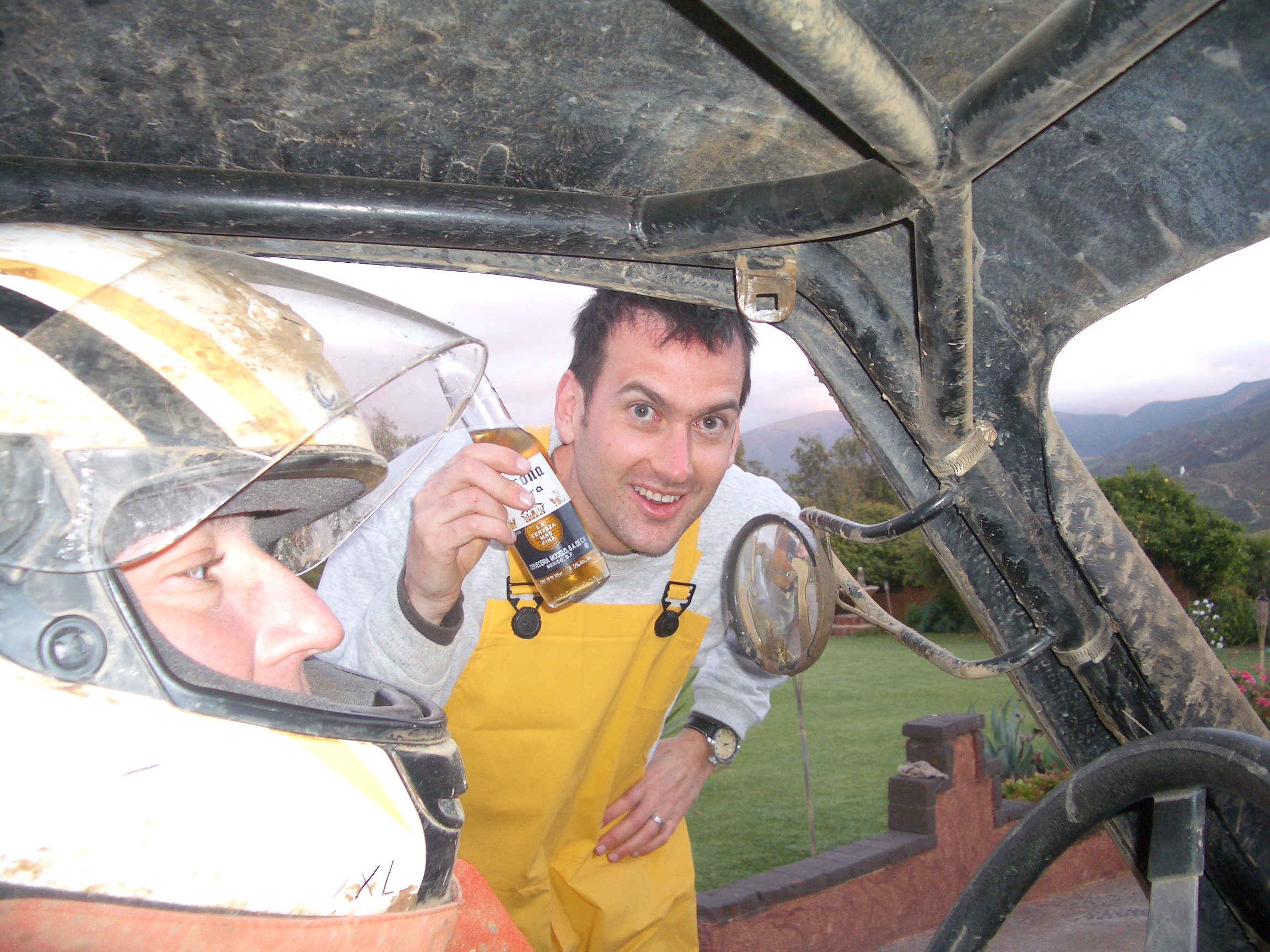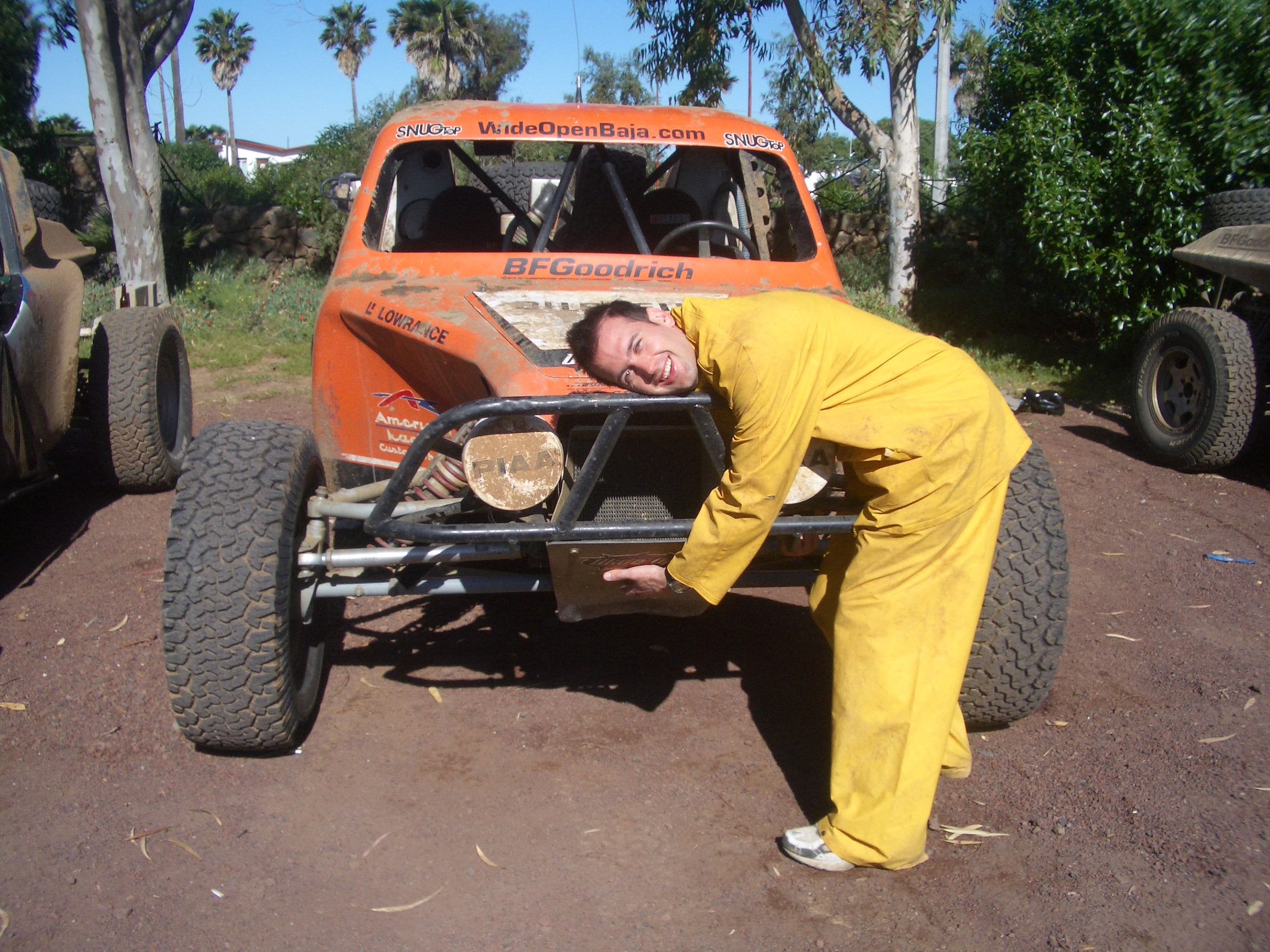 Corey and I talked a lot about flying MiGs together and going off on all kinds of cool adventures. Unknowingly that trip was a big spark to create Maverick Business Adventures (now Maverick1000) a few years later.
The one thing I'm most proud of through this period is how successful my students were.
I loved working with so many incredible people and helping them take their passions, knowledge, interests, expertise and message out into the world by selling content & information. They've built 5, 6 and even 7+ figure businesses in pretty much every conceivable field with some of my help:
Investing
Business
Music lessons
Spirituality
Fitness
Psychology
MLM
Sports
Natural medicine
Professionals
Self-help
Dieting
Dancing
Pets
Real Estate
Moms
Child development & parenting
Business to business and so much more…
One of my favorite stories was this college kid, Nathan Morris, from North Carolina. He told me he'd read one of our introductory programs and was starting to make about $1000/month online from his college dorm room. He wanted to know if I would meet him for coffee. Typically I don't do that without charging a very significant consulting fee but this time I made an exception because I love helping young entrepreneurs.
Nathan drove up 12 hours for that cup of coffee but he walked away with a game plan to earn 6-figures from his tiny list of 2000-some people. Wait until you hear the niche he sells to — it's so crazy and it could only work online. Nathan sells to enthusiasts who want to take the engine out a Honda Accord and move it to their Honda Civic to make it go faster! The best part about Nathan's story is his Mom accusing him of dealing drugs because he started making so much money selling information products after our meeting.
Over the years I've had so many people walk up and tell me how I've changed the trajectory of their life by providing them the blueprint to do what they want, how they want and provide an incredible income for themselves.
The original course was good but not great.
That's why, I decided to hold a complete tell-all workshop dedicated to all the updates and enhancements Every single thing and single way to take content and sell it. One of my buddies, Bill Harrison from FreePublicity.com (who helped put Chicken Soup for the Soul on the best-seller lists) would mention to me that I had a bunch of online oil wells. I liked that analogy so I created an entire framework of you could create your own big and small gushers. I'll show you the diagram that's from the course but the explanation takes a bit of time.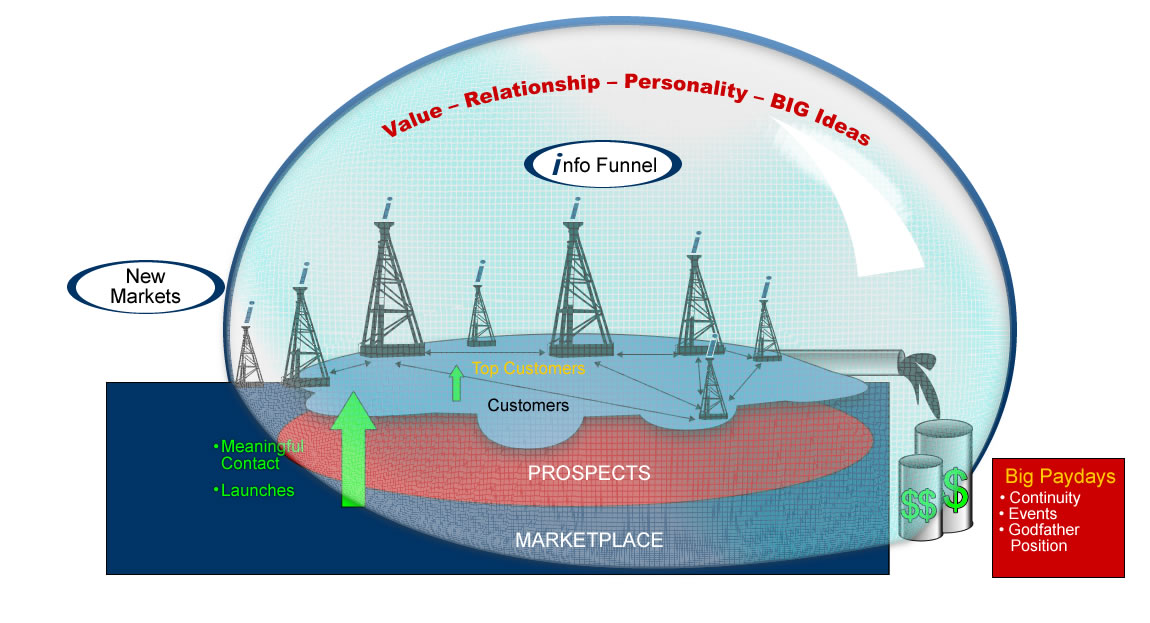 I called the event "Info Players Workshop". Probably could have come up with a better name but it stuck and I was just reviewing the attendee list – it was a real 'Who's Who' from all sorts of different marketplaces. Here's a late-night pic of some of the attendees playing poker to go along with the 'players' theme.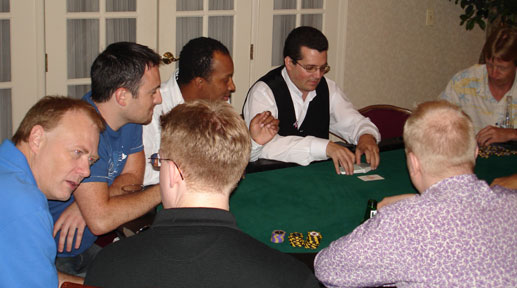 Attendees paid $5,000.00 to hear my entire collection of information marketing Secrets.
I created some of the first viral ebooks on the Net with resell rights, I held the biggest (at that point) Internet marketing seminar with 500+ attendees for my 30th Birthday and raising $25k for Make-a-Wish. Created the Underground® seminar and a lot more. I even created an 'Apprentice' program before Trump uttered his famous "You're Fired" line.
Unlike other seminars, I taught the entire 2 day workshop myself. And as a reference, the longest presentation I'd ever done about information marketing given at somebody else's seminar has been one hour. So 2 full days was pretty awesome. .
I covered absolutely every element that goes into creating a winning information marketing business (from product idea conception, to creation to maximizing revenue). That means everything from all the little nuts and bolts that normally get glossed over to the big picture stuff to ensure you have a "micro" and "macro" view of the information marketing business.
The reference manuals turned into 1,800 pages and complete A-to-Z sample of 5 different information products and all the promotion pieces. Here's the fancy product pic: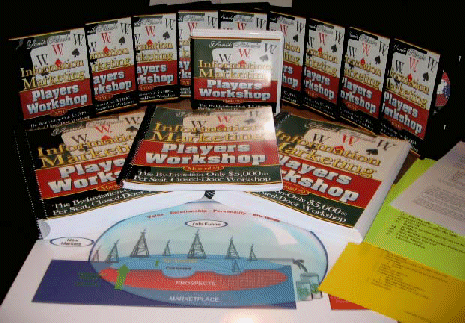 After the success of this event, I ended up doing a very specialized $10,000.00 per person workshop just on the psychology and exact process of selling high-priced products and services. This was like the PhD in information marketing.