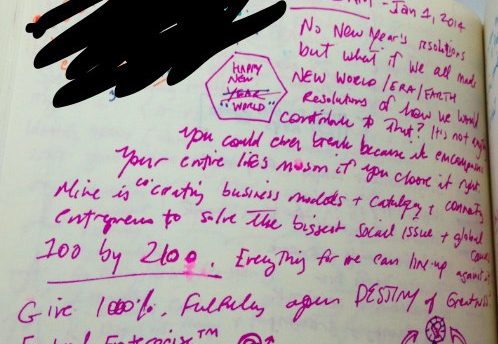 I don't know if you make New Year's resolutions or not but I've never really done it. I believe you don't need to wait for a calendar to turn over in order to change your actions. You can do it daily. (Check out the "Return Path to Joy, Happiness and Bliss" here – along with a v2.0 of a daily worksheet you can use.)
Instead of a New Year's resolution, I jotted this down in my journal at 12:02 AM, Jan 1, 2014: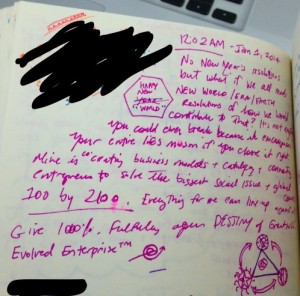 What if instead of New Year's resolutions we started thinking about 'New World Resolutions'?

What would you contribute to have an impact on creating a whole New Earth? How would you contribute your unique piece to the collective?
Whatever your answer is – the best part is you could never break your resolution because it's a lifelong journey and encompasses your entire life's mission. I've been thinking quite a bit about this and one of my favorite books last year was The Great Work of Your Life: A Guide for the Journey to Your True Calling
by Stephen Cope. (Read it!)
It's not exactly a business book but really important.
Written by the Director of the Institute for Extraordinary Living at the Kripalu Center for Yoga and Health. It's a book that uses the 2,000 year old Bhagavad Gita teachings to help you ascertain your true path or Dharma. The Gita is not so much about 'being' – which is incredibly valuable – but about 'doing'. Expressing your authentic being through your doing.
Part of the message of this book is doing the work that you put your full heart and soul into. And if you do that you don't need to worry about the success or failure of the outcome. It's about finding your unique contribution and living it. I've repeatability underlined this book and put lots of notes in the margins.
As you might be able to read in my journal – I wrote…
"Mine is co-creating business models, catalyzing and connecting entrepreneurs to solve the biggest social issues and global causes. 100 by the year 2100."
Not quite a full sentence – so let me see if I can polish it a bit…
"I connect and catalyze Maverick entrepreneurs and visionary leaders to co-create innovative business models and new ideas to solve 100 of the world's most meaningful issues by the year 2100."
That's a pretty tall order but one that I'm willing to put forth my resources, energy and talents toward. Something I think everything I do can line up against.
Why?
It's not just an altruistic feel-good goal but a legitimate (and even potentially more profitable) business model I'm calling Evolved Enterprise™
I believe, business in the 21st century can be leveraged as a multiplier for good…co-creating something great. The Evolved Enterprise™ serves all stakeholders delivering an exceptional customer experience people want to help spread, greater team alignment, more direct cause-related impact, a deeper sense of coming from the founder heart and, most interestingly, additional increased profits.
I would envision there being different levels or stages of an Evolved Enterprise™ based on how fully you integrate a deeper meaning and consciousness into what you're doing.
You can start more transactional perhaps and then work your way up to a more integrated transformational level or even transcendent level, way beyond a "typical" business. And the best part about this from a practical level is you actually can increase profits and create big wins for everyone involved.
For instance, on a transactional tie-in with a cause, I've seen split tests where our Maverick members have actually increased their conversion rates by having one page mention a cause they donated to and another page not say anything. The conversion went up 10% – and that's on a $2,000 product.
In Jamaica, for our annual Maverick M3 Summit, we had a member report that they had a 17% upsell increase by changing their script to mention $1 from the product went to a charity. And across thousands and thousands of phone calls this adds up tremendously (theirs is one of the biggest call centers for DRTV). The best part is it's big win/win – for the charity involved for increased funding and a win for their business too. The Evolved Enterprise™ can be more transactional, transformational or even transcend business.
I love seeing things like this work but I'm also immensely interested in "changing the course of the river" and not just pushing more water down the river, as a friend told me. How do we truly innovate to make sure the change is 'baked-in' into the business model.
One of the more well-known examples is TOMS shoes. Blake Mycoksie founder of TOMS shoes, really made the 'buy one – give one' model well known. You buy one pair of shoes and one pair of shoes goes to a child in need. It's tangible and easy to understand with a direct impact by-product of buying something you want anyway. I see this as one of the most innovative impact models and it's powerful. TOMS just reported they've given away over 10,000,000 shoes now. That means, obviously, they've also sold 10,000,000 pairs of shoes.
The "buy one – give one" model has been rocket fuel for their success and created super fans out their customers, team and suppliers. They were able to get unique partnerships and massive word-of-mouth because of their unique impact tie-in. Just imagine the difference between their model if TOMS said 'we give a % of our profits to children's charities'. (BTW – Blake has a good book out called "Start Something That Matters
" that's worth picking up.)
Here's another interesting one…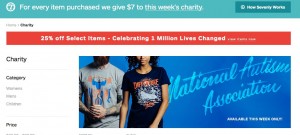 Let's take Sevenly.org. Not as many people are familiar with them as TOMS. They started off just a few years back doing limited edition t-shirts with $7 going to 1 cause they picked each week. Fast forward just a few years and they've hit $3,000,000+ in donations. Add that up and that's a lot of products they've sold with $7 being donated.
I truly believe that businesses will be at a competitive disadvantage in the next 5-7 years without some sort of impact related cause to their venture and that's how I plan to be all-in.
Giving 100%
In my journal entry I also wrote "Give 100%. Fulfilling your destiny of greatness"
The 100% part stems from something I'm not that keen to admit but I don't think I've ever truly given 100%. I can see an interesting pattern looking back on my life. For instance in college, I'd go out the night before a big exam, come in late into the lecture hall, borrow a pencil and be the first one out. Even with that – I'd still get a solid 'B'. And with my businesses, I've always done well and over-delivered but I've never given my everything. If I'm being totally honest, it's probably because that leaves a little room to justify results if they are not what you hoped for. But screw that. That's really not good enough anymore.
As I mentioned before, echoing the Great Work of Your Life book – by putting your full essence behind something, you let go of the outcome because your full effort is reward by itself.
I saw Marc Ecko, the founder of the billion dollar+ fashion and lifestyle brand Ecko Unlmtd, speak a few weeks ago at a CADRE DC event. His new book Unlabel: Selling You Without Selling Out
is about building an authentic brand from the guts out to the skin. He told us that it didn't matter what anybody said about the book or the reviews or how many it sold, because he had written it for his kids and he 'won' once the last word was written. (I was taking to Marc the other day and we're going to be doing a teleseminar for you guys.)
Looking at my unique abilities, resources, network, "R&D", etc. everything's been leading up to connecting the dots. Everything from business models I've studied, my connections, the reputation I've built, my previous successes, past relationships, current distribution channels – truly everything.
And this Evolved Enterprise™ overlaid on the "100 by 2100 project" is MY path.
Of course, there are plenty of question marks bouncing around my head still like how I'd measure the impact on the 100 global issues, what that success looks like, etc. How that fits across what I'm doing everywhere, etc.
But I'm sure the right people will come into my life to help at the right time.
I believe in the interconnected destiny of greatness through the unique collisions of big ideas and incredible individuals, together we can co-create something meaningful. I can't wait to see how the journey unfolds and hope you'll be part of it. Drop me a comment with some thoughts and ideas to get the conversation rolling…