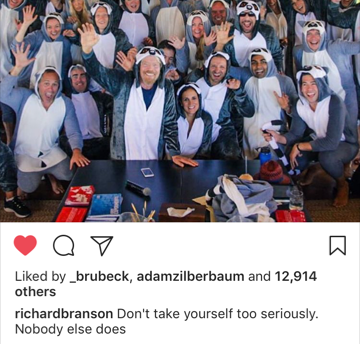 I have a little secret way of tapping into deeper wisdom…
You see, I love the serendipity of writing questions, doodling, or jotting little notes to myself a few pages forward in my journal. Then, when I "land" on that page, something magical usually comes together….
In the Evolved Enterprise book, one of the questions I shared that can help you dig deeper into your meaning is "What would my 111-year-old self tell me?" (It's a question inspired by Tal Ben-Shahar and his work on happiness.)
This question brings forth a profound inquiry of tapping into elevated wisdom from an extended point of view.
Fact is, I love questions.
I believe our questions dictate our answers and this is definitely one worth thinking through.
However, I have a totally different direction for you….
The other day I came to the page in my journal where I had written the question "What would my 11-year-old self tell me?"
Hmmm…
First, I had to bring myself back to that time and place. It was 1984, and I played Dungeons and Dragons, loved eating Fruity Pebbles, and collected Smurfs.
And from that viewpoint of a slightly nerdy and unsure of myself 5th grader, here's the first answer I wrote in my journal:
"Have Fun!"
Makes sense. I realized that at age eleven I was a little more carefree. There was still an innocence to my life at this moment as it was 2 years before my parents got divorced.
Okay, "have fun" is a good start, but I want to explore more deeply what message is hiding under the surface. So what else would my little dude tell me? I continue writing:
"I know my magical child loves to draw, laugh, and play. And living in a more magical way, you get to write ANY script you want. That means including all the pieces that fill me with joy. And I certainly know what those ingredients are."
Better.
I've realized your first answer is not usually your "real" one. There is a deeper, more profound knowledge to be found by continuing to ask again and again.
You Might Laugh When You Try This
 Here's a process to go further….
I have my friend Bill Donius, author of Thought Revolution, to thank for this. He taught Mavericks about one of the most connected ways you can get guidance from a different part of yourself or open up new ways of thinking
You can tap into your full creativity by writing with your non-dominant hand. It feels odd when you start and maybe even totally silly or completely illegible, but it works.
Now, with my left hand, I wrote this message back to myself:
"It's easier than you think because your heart always has your answer. You might not like the answer or it's inconvenient, but it's truth. If choosing between 2 choices – which one brings out more play? More joy?
 Not just "fun" only because that can change – but your deepest self is discovered through play. You're making it harder on yourself too. Just laugh a bit more. Oh yeah, your turtle says "hi"… – 11-year-old enlightened Yanik
—
Random side note: Funny that using my left hand brought up my pet turtle I had for a short time as a kid. When I went away to the beach, my best friend Jamie was supposed to watch him, but the turtle (slowly) ran away.
—
I attributed this insight to the "11-year-old enlightened Yanik" because that's exactly how it feels.
Kids provide some of the most amazing insights if you let them, and your own 11-year-old self probably has a message for you too.
Think back to what you loved to do when you were 11 and what gave you joy. Now how can that be brought back into your life in a fully integrated way? Where can you mix this into your business or life in some way again – but now from a new, expanded perspective?
One big thing for me was drawing. I actually thought I wanted to be a professional hockey player and then a cartoonist in the off season. I loved to draw and doodle and created my own characters, like "Meteor Mouse" and "Big Nose Fred."  I even created a comic book with my buddy Jamie under the imprint of "Silver Dragon Comics." (His last name was Dragon, as you might have guessed.) It wasn't really a profitable venture as we only sold 2 copies – to my parents and his – but I guess technically it was the start of my publishing career in a way.
Years later, I started drawing and doodling again in my journals.
I realized how much I loved it and actually included all my own doodles into my new Evolved Enterprise book, on blogs, and even in some of our marketing. One hint you're doing something you love is when time stands still or it generates more energy for you as you're doing it. I remember writing the final draft of the Evolved Enterprise book and was totally beat at 3 a.m. and ready for bed. But at that moment, I realized I wanted to include my own doodles in there. Bam! It was a huge blast of inspiration, and I kept drawing for another two hours.
My 11-year-old enlightened self also said to focus on play…
Your Greatest Joy Revealed
Play is one of our most natural expressions of who we are in our perfected state, and it's an incredible way to connect to anyone in your life.
The other night, we had a dad and sons barbecue at my neighbor's house. It was good food and wine (for the parents), but the real highlight was playing together. We played dads vs. boys in street hockey, basketball, and soccer with a quick S'mores break in between the final match ups.
Simply playing together is one of the greatest joys we have together (and it didn't hurt that the dads beat the kids 5-4 in a wild soccer match thriller!).
The book, Play, by Dr. Stuart Brown covers why play is invaluable for relationships, learning, working together, and socializing as mammals.
I like playing with words too, and there's a reason "recreation" is another word for play – because it "re-creates" our world.
Play is what we're naturally drawn to if we simply give ourselves the permission to explore how we want to play within our lives and work. Sadly, most people believe work is in direct conflict to play, but that's not the case.
As Dr. Stuart Brown says, "The opposite of play is not work – the opposite of play is depression."
Have you ever been around someone who is simply playing? There's an uninhibited joy that takes hold. There's a loss of time, and we feel totally in the moment. Play is such a simple concept, but how much time do we even allow ourselves to explore what play really looks like?
"The master in the art of living makes little distinction between his work and play, his labor and his leisure, his mind and his body, his information and his recreation, his love and his religion. He hardly knows which is which. He simply pursues his vision of excellence at whatever he does, leaving others to decide whether he is working or playing. To him he's always doing both." – James Michener
The Virgin Billionaire at Play
 One of the characteristics I've seen up close many times from being around Richard Branson so often is his playful side. He is involved with serious projects, but he makes sure he doesn't take himself too seriously. In fact, one of the rules on Necker is that there's no work in the afternoons. Seeing Richard do this, I think he gets more productive time by focusing it all in allotted blocks and by continually rejuvenating and refreshing himself from playing more.
It's not uncommon to have Richard instigating the party, dancing on tables, or generally mixing things up.
I love showing up on Necker and having some sort of silly surprise for him or a small prank. This year, in support of ocean conversation, we both donned mermaid (or merman!) tails for our Q&A.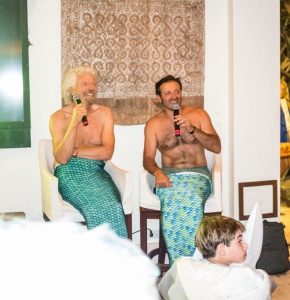 And last year we surprised Richard by having everyone on the island wear lemur suits for our "serious" brainstorming meeting. When he walked in, he just laughed and gladly jumped into his own lemur outfit.
It's funny to see this picture continuing to get out there in his social media posts. I get a kick out of seeing it pop up again and again, like on Richard's Instagram, with the caption: "Don't take yourself too seriously. Nobody else does." (My daughter Zoe responded to the picture by asking how her lemurs are doing.)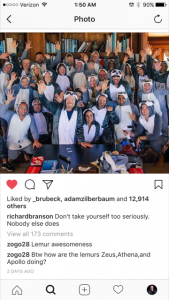 I always believe a good costume adds to the play and fun of any kind of event. Making more of your work feel like play leads to big results. That brainstorming session that started with lemur suits actually turned into one our most impactful projects to date – sinking an old WWII ship and turning it into a marine conservation platform.  (Read about the project here – http://www.divethebviartreef.com/)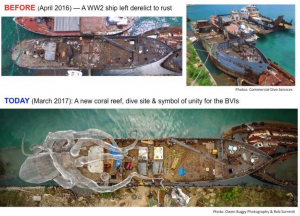 And putting that together was definitely fun!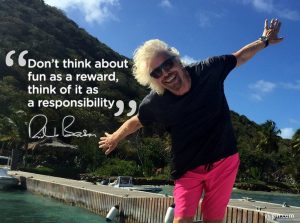 Quite frankly, our work doesn't need to feel like, well, work.
So often we discount what comes easily to us that actually feels like playing simply because it comes so easily and seems like such fun to us. For me, part of how I play is helping brainstorm better business ideas that can have a greater impact on the world. I love thinking of the unique positioning, the hooks, marketing angles, cause elements to bake in, and so much more. It's so alluring for me to map all aspects and facets and how to create more leverage beyond what many others might see. To me, that's fun! I love it!
I love engaging in a potential problem like that and then figuring out the pieces to build something really meaningful using the Evolved Enterprise framework. I get a kick of asking the right questions to trigger the answers that move the needle. Or intuitively diagnosing the real buried issue that these entrepreneurs don't even realize is hiding behind what they think their problem is.
When I get out of my own way, I realize how valuable this really is for others.
But since it feels like play, it's too easy to discount it. To not value our own worth and our unique expression of our work… Why does it have to be hard? That's some sort of belief we've inherited somewhere along the way. It doesn't have to be that way if you incorporate the belief that our work can be inter-meshed with our play.
"The richest and fullest lives attempt to achieve an inner balance between three realms: work, love and play." – Erik Erikson
Play is one of the great unifiers to have all levels of people, no matter how successful, drop their walls. That's why, at many of our Maverick experiences and retreats, you'll see there are opportunities to play. There are deeper connections, opportunities, and friendships that develop when you're randomly together on Tuesday night and have been transformed into zombies by a Hollywood make-up artist than when sitting around a conference room.
Actually, one of my favorite playful events we put on is Camp Maverick, which is coming up. It's absolutely a chance for the inner child to come out and play. Imagine heading to sleep away camp with a group of exceptional entrepreneurs to learn, play, and make a difference.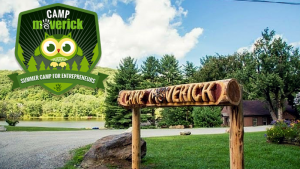 Basically, they've removed all the boring parts of going to a seminar and replaced them with summer camp awesomeness on a full 400 acres that we have all to ourselves. I don't think I can quite do it justice, so watch the video here – www.GoCampMaverick.com.
My mentor, Frank McKinney, says he can always spot when an adult has let their inner little boy or little girl die. They just don't have that same spark in their eyes. And that spark is lit by playing more by adding more play into your work and your life.
Think about what you loved to do when you were a kid and what your 11-year-old self would tell you.