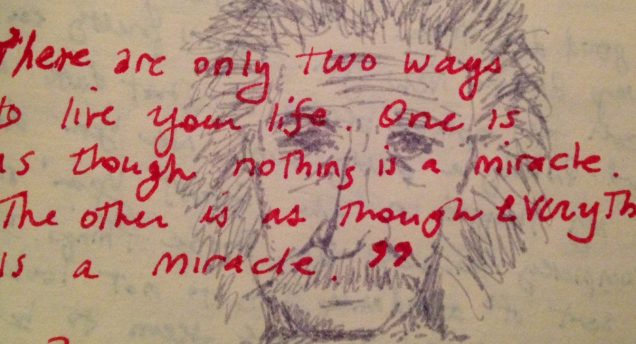 This past summer, we took a road trip with the kids to check out a camp our 9-year old, Zack, was deciding on. I really like windshield time because I make it a point to turn off the radio for some of the journey. I also like this for short rides to school or hockey practice or art lessons. It creates some dialogue because your kids can only stare out the window for so long before they must talk to you.
Now we had 5-hours of drivetime so lots of conversations about all sorts of subject. I brought up the idea of the magic of your imagination and consciously creating your intent. I started by asking the kids what kind of animals they thought we might see on the way up. I got the usual answers like deer or horses. And then Zoe, our 7-year old said, "a dog being walked". That's specific. I like it.
We saw deer and horses and then at the next 2 places we stopped, we got the doggies.
Yes, of course, it's not that crazy to see dogs being walked on rest stops, but it was a start. It got them intrigued and then Missy said she'll believe it if she sees a penguin!
Now I wasn't sure we'd see a penguin waddling around in July but I have a cheerful expectancy that something intriguing would happen.
Arriving at camp, the kids are whisked away with other potential campers and sent on a full trial run of all the best parts of camp. And then the parents are sequestered and taken on their own tour to sell them too. We see all the recreational facilities, water sports, full-sized hockey rink and even some wild stuff like zip lines and trapeze set-ups. Wow! I want to go to camp. (As an immigrant child, camp was just never a typical thing so I never got to experience a full-blown sleepaway camp. So I need to do something about that. Look for a big announcement soon on what's replacing Underground.)
As we entered the art room, I had a feeling I might spot a piece of penguin artwork. I was intent on finding one and I was checking all around the art room, but still no luck. However, my intuition was kinda right.  As we kept moving along to check out a cabin, there hung up on a camper's bunk bed was a picture of a penguin she drew. I snapped this shot while walking through: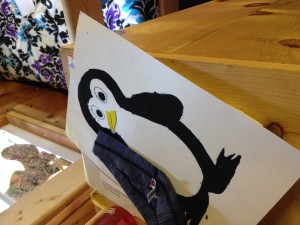 Missy looked at the penguin and her jaw dropped.
Of course, you might dismiss this as selective perception, like the way you notice the same make of car after you just bought it. But I'm not that sure here. We only walked into 2 cabins out of dozens on the camp and I doubt artwork lasts a long time since they are continually creating new stuff. Regardless, I'm willing to accept it might have been a coincidence.
On way home the next day we talked again about the magic of our imagination and intention. I brought up the penguin and we started playing the game again.
I said I wanted to see an 'ice cube' and then Zoe said a 'polar bear'. Once again I had no idea how or where it'd show up but I knew it would. About 5 minutes in, I spotted a sign like this: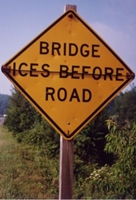 It said the word 'ice' so I thought that was my ice cube and I was (mostly) satisfied.
But we had a lot more road time still to go. The weather was pretty wild and we got everything from perfectly sunny weather to blinding rain and lightning multiple times. Then add in nasty traffic, multiple accidents, re-routed detours and the kids arguing with each other.
What was a 5-hour drive the day before ended up turning into a 7-hour trek home. But beacause of the detour I took, this next moment really blew us away…
I took us off the highway to hit some back roads to get around a big accident and major traffic. Now before we got back on the interstate we came to a corner convenience store. Everyone in the car was ready for a stretch, bathroom break, and maybe a snack so we piled out. And right as I walked towards the entrance I pass an ice machine and do a double-take. I see this on the side of it: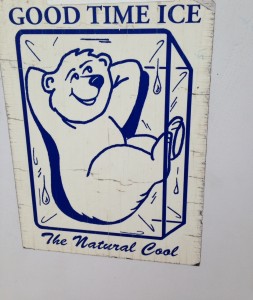 That is a polar bear INSIDE an ice cube!
For me this was a significant synchronicity because it's a combination of both our thoughts – that's pretty wild! The interesting thing about synchronicity is there's just enough potential for it to be explained away. But if it's a meaningful incident to you – it matters. (The subject of synchronicity that Carl Jung introduced is endlessly fascinating and I was even re-introduced to Jung's work via a synchronicity.)
The best part is Zoe was definitely impressed and it made a big impression on everyone in the family. So much so that when we created our family values, which we call our '13 Silver Keys', one of them is "Make Magic". Ths 13 Silver Keys are inspired by Ben Franklin's 13 weekly virtues and also my friend value-based parenting expert, Richard Eyre. (I'll probably do another blog post about this topic soon and how we created them together as a family.)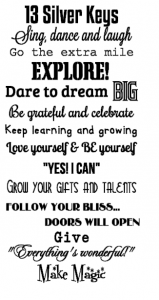 And now every time we get to the 'Make Magic' week, I can just say 'polar bear' and the kids remember the story and it becomes short-hand for them.
Try this little game with your kids in the car or anyone really, and see how it 'magically' shows up in your life.
At the top of this post is a drawing in my journal from one of my favorite Einstein quotes that really sums this up for me:
"There are only two ways to live your life.One is as though nothing is a miracle and the others is as though everything is a miracle."
And why not?
Wouldn't you want more awe, wonder and magic in your word? I know I do!