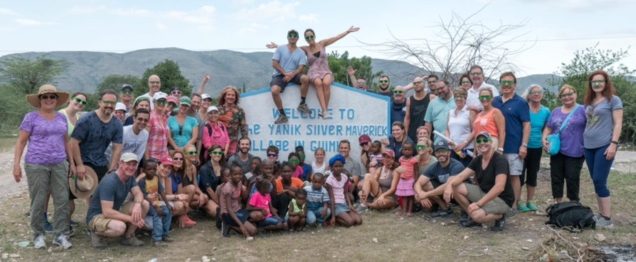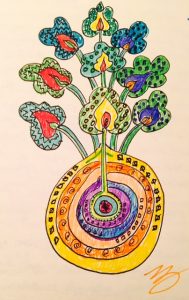 After finishing this blog post, I wasn't so sure I was going to share this whole story, so I'm posting it before I change my mind.
I live by the intention of "creating impact by catalyzing the catalysts." And I'm thrilled to see that intention firsthand in Haiti….
For the last six years, I've co-hosted an annual Impact trip to Haiti with one of my mentors, Frank McKinney. Maverick members and other invited guests have attended this trip to Haiti to develop self-sustaining villages for the desperately poor.
And this visit, my seventh, was really special because it will most likely be Frank's last time doing this trip. Secondly, it was to open the "Yanik Silver Maverick Village" in Guimby. There are only three named villages out of 24 built over 14 years, so this was quite an honor.
At the tail end of a long first day after already visiting our first orphanage in Haiti, we rolled into the village after a four-hour bus ride. I thought I might feel really emotional, but it was a different kind of experience. It was certainly incredibly humbling and an incredible honor. As much as I cherish this moment, I'm also not attached to any accolades or recognition but simply doing whole-hearted work.
When we arrive there as approximately 50 white people, there's always some "feeling out" that happens. The villagers are trying to figure out how to interact, and we are too.
The mood got a little more open when Frank suggested I jump up on my sign for pics. Then Sophia joined me, and we put everyone in Maverick green sunglasses and a few green mustaches…even the Haitian kids. I love a bit of fun and levity in any situation.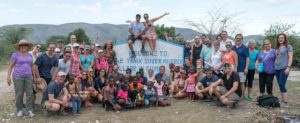 We moved to the Community Center for a few speeches. The "mayor" of the area said how thankful they were for us building a village here in Guimby, where their great-grandparents had once lived. The government hadn't given them anything, and now they were going to use this good fortune to magnify their lives. Frank gave the next speech mentioning my role of bringing in so many individuals who have had an impact on Haiti and that I lead from the heart.
A Nudge
Earlier in the day, I had given a little bit of thought to what I might say when we visited our first orphanage, but I decided I'd rather let the moment come through me. Through my translator, I addressed the Haitians first with this message: "Yes, my name is on the village, but the more important part is 'Maverick' for them. To me, a Maverick is someone who is different, who follows their own path, and it's really about three things: 1) grows themselves, 2) makes a difference, and 3) has some fun along the way." Then, after thanking the Mavericks who came along and the ones who have made a difference over the years, I turned back to the villagers and wasn't sure our translator could get this right as I said, "I always believe I am a catalyst of catalysts." Then I simplified it to "I nudge others."
Finally, I ended by joking that I'd be okay if any of the mothers wanted to name their kids "Yanik" or "Yanika." That got a big laugh from everyone. (Later I found out the name "Yanick" is a Haitian name reserved exclusively for women, usually elder women, so that might have been part of the chuckle.) 😉
Maverick Capitol City alum, Barry Glassman, captured this perfectly:

However, what I was most proud of was when one of the villagers simply got up to take the microphone to say he heard my message and today he is a "Yanik." Today he is someone who can make a difference and can help others. That was the most special part for me—to realize that this "regular" person could be empowered now to nudge others around him too.
Frank always says we change the world by simply building one house in Haiti. We've changed the world for that one person, that one family. I've had people ask me why I continue working in Haiti since it seems so hopeless to them. It reminds me of the starfish story of a girl seeing thousands of starfish washed up on shore. As she starts throwing them back into the water, a man comes up to her and asks why she's doing that since she'll never make a difference with so many starfish. As she throws each one back, she says, "It mattered to that one."
Not only do I love the individual impact but I love thinking about business ideas that can make a difference. A good example is the "10 Cards of Hope" project I helped co-create as a way to support the orphans we see each year. (It's a great tool to build your business, increase your happiness, and support Haitian orphans in need.)
Removing My Own Inner Thorn
At a rest stop on the way back to the hotel, I kept feeling something pricking my foot. I couldn't tell if I had something in my foot, in my sock, or what. I took off my shoes and socks several times on the bus but couldn't figure it out. Getting back to my room at the resort, I realized I had stepped on a big thorn in "my" village. It had deeply embedded itself in my shoe so deep that it was just slightly poking out of the insole. So if I stepped a certain way, there would be a sharp pain in my foot. I couldn't help but think of the similarity to a big thorn that came all the way through my shoe while on safari in Kenya. It punctured my foot and nearly caused my foot to become badly infected.
But here I simply pulled it out of my shoe. Easy.
It reminded me of a chapter called "Removing the Inner Thorn" from the book Untethered Soul by Michael Singer that I've been reading and re-reading.
Here's what he says about this concept:
Imagine that you have a thorn in your arm that directly touches a nerve. When the thorn is touched, it's very painful. Because it hurts so much, the thorn is a serious problem. It's difficult to sleep because you roll over on it. It's hard to get close to people because they might touch it. It makes your daily life very difficult. You can't even go for a walk in the woods because you might brush the thorn against the branches. This thorn is a constant source of disturbance, and to solve the problem you have two choices.
Essentially, the two choices are if you keep the thorn, you try to force the world to conform to your preferences to avoid having the thorn touched. Or the second option is simply to remove the thorn by being open to everything. For me, that's about opening to let in full joy, love, and happiness.
This symbolism of simply pulling my thorn out was not lost on me as I wrote in my journal that night: "I've 'removed' the thorn from my heart—there is nothing to protect anymore. Simply OPEN."
Side note: Michael Singer's The Untethered Soul and The Surrender Experiment are absolutely excellent, and I'd highly recommend them. I had a bit of a tough time getting through The Untethered Soul a few years back. I read it but didn't get what I needed then. Next I got The Surrender Experiment, and it seemed to flow so much easier. It's truly an epic story of how the Universe continued to deliver even more for Michael than he had asked for, including being CEO of a public company and growing his spirituality. In fact, he makes the point that business became his ultimate spiritual growth vehicle. And I agree totally.
A Nearly Wasted Gift Recovered
After breakfast, we headed out to St. Marc's Orphanage, which we've supported for several years now through our cause partner, HopeToHaiti. It was great seeing some familiar faces, including one especially. His name is "Big Love," and the last two years almost nobody could get him to smile. But now, with some love, security, and a stable foundation, he's thriving. Totally different kid.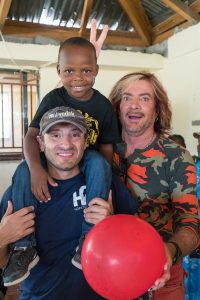 Here's a picture of Paola Guernsey with Big Love two years ago and now today.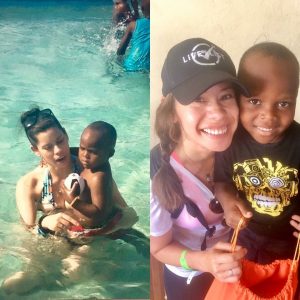 I thought I might cry the day of my village dedication, but I didn't. However, I did surprisingly get emotional here at the orphanage. (Another sign my heart was opening even more…)
We were treated to one of the girls singing a gospel song with such pure joy behind it. I didn't understand the words, but I fully got the feeling of grace and love. Hearing her beautiful voice and knowing her story really hit my heart. You see, she was one of 12 kids simply found abandoned by the side of the road. I believe our boy, Big Love, was one of those 12 kids too. But this girl was the oldest, and she was in charge of venturing out to bring them food. They literally lived like a pack of stray dogs.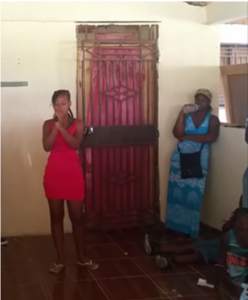 I cried because here was someone with such an incredible gift that was almost wasted had it not been for the compassionate individuals there with us. It's pretty likely the kids would have starved to death on the streets, and nobody would have heard her sing.
"Everything's Wonderful"
I saw two of the older boys who I took jet skiing a few years back for their first time ever, Bernard and Feditov. They were excited to see me since we were taking all the orphans back to our resort for them to spend the entire afternoon enjoying the pool and playing with everyone. I told them we would do it again, and their faces just lit up with fist bumps all around. Then they asked if they could drive. I had no idea, but I said sure anyway.
Our family has 13 Silver Keys that are values we discuss and share each week. One of them is "Everything's Wonderful," which was actually the one we discussed the week before going to Haiti. Everything's wonderful simply means you can find something that is wonderful in every situation—and it's very much in line with the notion that Michael Singer espouses of surrendering and accepting everything that comes to you.
Nothing is ever totally straightforward in Haiti. I had to go to the main office to book our one-hour jet ski session. I paid for the session, and then they had new waivers this year. I signed off and then had no idea how to sign off for Bernard and Feditov, what ages they were, or even their last names. I mean, I figured it was Haiti, so we'd be okay, so I just sorta scribbled a signature. I also didn't know if you had to be a certain age to drive the jet ski. I really didn't want to disappoint them, but it wasn't really in my hands.
I set up an appointment at the Jet Ski spot for 3 p.m. Great. The kids were leaving at 5 p.m., so we'd have plenty of time. When they showed up at the hotel, I told the boys we'd go at "tres hueres" in my best high school French. More fist bumps!
In the meantime, I hopped into the pool with many of the other orphans. It was great because the last few years we've brought back the kids to our resort to enjoy just being kids.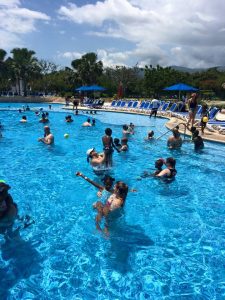 Now, at about 2:30, I told the two boys we should get something to eat. This place is all-inclusive, so I wanted them to make full use of everything. I figured they'd eat a burger or two and we'd head out. But 45 minutes later and plate after plate, we still weren't done. The whole time, I was just smiling and loving watching them eat.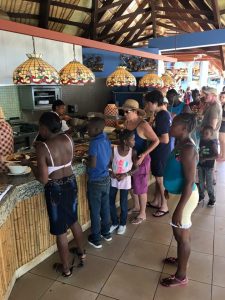 The boys kept making "vroom, vroom" noises as we walked down the beach, in their excitement to drive. I was hoping they'd let them. We trekked all the way down to water sports, arriving at 3:20. At this point, our jet ski was now already out on the water.
I had only booked one, but both were out. I asked the woman when we could come back, and she said 4:20/4:30. That wasn't going to work since they were leaving at 5. She yelled something in Creole to the guys on the beach, and I got a 4 o'clock sharp answer. Looking good. Now, instead of simply waiting around, we took kayaks out and paddled around the water. I figured I'd watch the jet skis roaring around in the ocean, and when they got back to the shore, we'd paddle back there. After about 30 minutes, the two jet skis were heading back to water sports, but we weren't all that close. I paddled hard, but by the time I got there, the jet skis were both out again.
Let's see what will happen…. "Everything's wonderful."
More yelling and discussions in Creole from the office woman to the gents running the jet skis. They told me it would be about 15–20 minutes, so we wouldn't get the full hour I bought for the kids. I also know island time of 15–20 minutes would really be closer to 4:30 probably. I just told the operators I'd like two jet skis for 30 minutes instead. Done. And I asked if the boys could drive. I think he said yes, but I simply took it as an affirmative.
Of course, this worked out even better because with two jet skis, now they could both take turns driving while I raced alongside them. It was great being able to reflect their joy and happiness from cruising on the water all by themselves.
And the rest of the day continued with that open-heart awareness and a subtle knowing of more magic afoot.
A Drenched Full Moon
I had been hoping to see a brilliant, illuminated full moon, but nature had other plans. It doesn't often storm in Haiti, but we got a good one.
We end each trip with going around the circle sharing insights. It's always a moving conversation as we hear how impactful and totally life changing this intense experience is. After a few more hugs, we headed out. I had been really looking forward to maybe sitting in the sand watching the full moon—but it didn't look like that was happening. I felt a little bit of disappointment but realized there might be something better again. I like full moons for meaningful intentions.
That's why a few of us took off in the downpour to meet in Sophia's room for deeper conversations and to work with a unique deck of Mayan cards I brought. These cards are based on Mayan cosmology and are intended to help you step into your greatest expression of yourself by aligning with the bigger, unfolding cosmic story. These are not like a Tarot deck or really anything else I've seen or explored.
**
Quick side story: I first started being more intrigued by the Mayans as 2012 approached. It reengaged my interest in many of the things I enjoyed as a kid, like studying the sacred sites of the Great Pyramids or Stonehenge. I knew the Mayan calendar was not the "end of the world" prophecy as some people in the media were predicting.
I felt very called to be with the Mayans for the 2012 winter solstice, so I had our team scrap everything for the Maverick Summit we typically do the first week of December. I simply knew we had to be there at this auspicious time and place. My team thought I was somewhat crazy because the solstice was on December 21, just a few days away from Christmas. Undaunted, I said we were doing it.
And big props to Sophia for finding a way for our Maverick group to actually spend the night in a real Mayan village on the night of the calendar change.
Solstice Synchronicity
We wanted to have an authentic Mayan shamanic ceremony for all the Mavericks staying at the village, including taking part in a temazcal. Picture a little concrete igloo-like structure that's pitch black in there and super cramped, and then add steaming lava rocks to make it even harder to breath.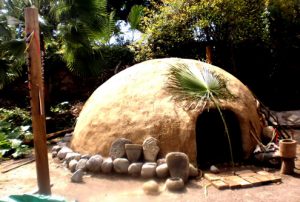 Plus for good measure, there's a boulder rolled in to cover the entrance/exit so it's totally sealed. (However, you can always clap three times to get out.)
I wasn't so sure I wanted to even stay in this temazcal the whole time because I've previously had small bouts of claustrophobia. This was before my yoga and meditation practice, so I could definitely be the person that claps his hands to get out. However, as the ceremony continued, I simply worked on relaxing and breathing. At the end of the ceremony, you had to yell to have someone remove the boulder again. Just as that was happening, we heard the other half of our group counting down: "5…4…3…2…1!"
There's no way we could have planned it any better.
We had come out EXACTLY at midnight on the winter solstice. This kind of synchronicity is pretty hard to brush off along with the deep symbolism of the temazcal to the Mayans, representing going into the womb of the earth to be reborn.
Part of my own "rebirth" was making my own evolutionary shift from that moment forward.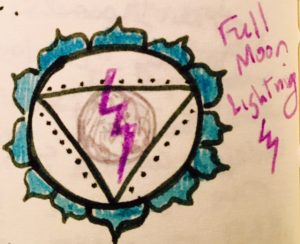 Lighting the Way to Wholeheartedness
Okay, back to Haiti…
As I was walking from my room back to Sophia's room, I started seeing the storm intensify with lightning. That made me think of one particular Mayan energy, Cauac, which is symbolic for storm and lightning.
The first question was asked by F. about a message her recently deceased mother had been sending her. (I'll keep the person and question private.) And just as she drew her card, there was a huge lightning strike that flashed in our windows. She drew Cauac.
Next, after sharing with F. the meaning of this card, it nearly floored her because of what she's been attempting to wrestle with in her life. It hit her like a ton of bricks because Cauac energy is all about going through a storm with no turning back and pure purification on the other side.
I decided to go next instead of just holding back and waiting. If my heart was open, that also meant being vulnerable here. And that's in alignment with what I asked guidance on with the question of "How do I fully open my heart?"
More lightning again flashed as I drew one of the glyphs.
You can probably guess which glyph I picked. Yep, Cauac too!
Mine was right side up, while F.'s was upside down, so she was working with a shadow transformation. The storm outside continued as I read aloud the sections I had underlined from previous sessions:
"Final surrender of ego into Essence and the Divine Self. Cauac beckons you to step into the fire that changes every level of your being even the underlying structures of your life…"
"Be purified by the cleansing rains and transmuting lightning of Cauac."
Tears started welling up for me the second time that day. And what really got me was when I read, "I come to release that part of your light and power that has not been fully freed into love…Do you stand willing to surrender everything to become all that you appear not yet to be?"
Step to the Edge…
The edge I'm stepping over with my heart opening is fully merging, teaching, and sharing all aspects of who I am: the spiritual/conscious evolution/cosmic story/artistry side AND my entrepreneurial/business/marketing side.
Here's a snippet of what I drew in my journal: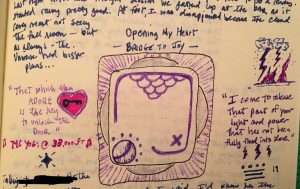 Truly being whole with who I have personally evolved into on my own journey.
And part of that is working with subtle energies through my intuition and "re-remembering." In a private Maverick presentation on "Legendary Legacy," I use the acronym D.A.R.E. with the R standing for "re-remembering." That's my wording for what we are doing here—re-remembering WHO we really are and living in a more mythic way.
Interestingly enough, the next glyph drawn was about the adventurer's quest and living your life mythically.
Then Sophia had the final draw with a more complex set of multiple cards standing for different aspects of the situation she was asking about. Of course, there's a very deep interconnectedness I know Sophia and I have as co-conspirators in Maverick—but this was deeply profound. It was as if her way to more joy and fulfillment was exactly what I envision fully for the people we love. (More on that soon…)
Feeling into the Uncomfort
It's no accident that many of those amazing people we love were on the trip, including Maverick member, Chris Plough. I had wanted to show him the tool briefly, but now at the airport, it might be really weird with so many people around. Whatever. I handed them to him anyway.
After reading through the meaning of what these cards were for and feeling into it, Chris wanted to work with them. I really felt into my discomfort here. The potential for being judged here felt strong. I could feel myself tightening up. If I wanted to be open, this was another opportunity to do so.
I suggested to Chris a spread to represent the root, the trunk, and the branches of what he was discussing. Again, without mentioning the specifics, it was spot on. Like spot-spot on. The first glyph drawn, representing the roots, was Kan, which is the symbol for seed. Hmmm…
What's more, his inquiry had to do with what he was planting (Chris' words) and working on birthing. As I explained more about each of the symbols he held in his hands, tears filled his eyes. It was really powerful even if others were looking on and wondering what the heck was going on.
With all of this, it couldn't be clearer to me that my intention for a full heart opening is about showing up as my whole self. I'd rather be open and really lean into every aspect of what I've discovered than hold pieces of myself back. And that's something my friend, Kamal Ravikant, is helping me with.
He and I agreed to simply do one focused "Pomodoro" session each day to get even more of our own authentic messages out into the world. So when we're done with it, we text each other a 

That's it.
It's a little bit of fun accountability for both of us, but surprisingly, it's enough.
While I was away in Haiti, he sent me a text asking where my tomato was. I said I was in Haiti, thinking this would get me out of it.
Here's his perfect reply of not really buying any of it and nudging me to get my tomato done (which turned into this blog post):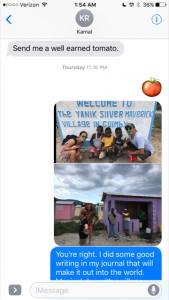 Thanks, buddy!
This concept of "hiding" some parts of yourself for fear of being judged or not being taken seriously may be holding many of us back from speaking our full truth. It reminds me of Carl Jung really wrestling with his "science" and "spiritual" side. I'm a big fan of Jung's work and the psychological concepts he developed. Something totally different is his The Red Book, published posthumously, because he didn't believe he would be taken seriously as a therapist if he shared everything he channeled. This oversized volume is magnificent with his gorgeous illustrations and calligraphy. This channeled work actually was the period of time that led to his greatest theories and most meaningful work.
As a small homage to Jung, I commit to continue pushing myself to open up to all sides of who I am and to share more of these ideas (and my own illustrations). Stay tuned…