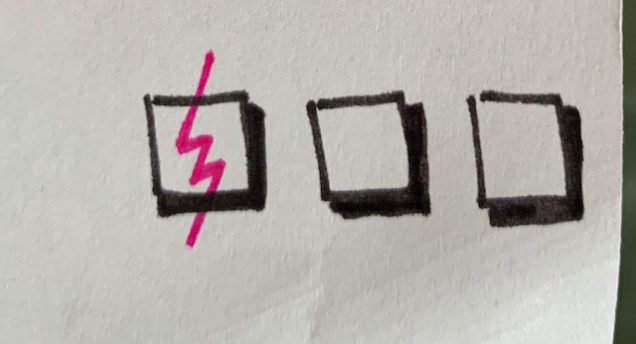 I want to share with you something so small…so easy…and so silly that you won't believe it'll work. 
It's a way to be fully in flow with what you love to do most and have that open up in the most wonderful ways you couldn't even imagine. (At least that's been my story so far.)
What started as an interesting experiment turned into something so much bigger….
Here's what happened….  
Originally I saw a challenge online for 100 days of art. It seemed interesting, but I dismissed it because I didn't really think I could do it with all my travel and other things going on. In fact, I distinctly remember writing in my journal about my uncertainty but then working through to a realization that I'd just do it and see what happened. 
However, instead of just 100, I wanted to make it more meaningful and committed to 108.
Why 108?
In yogic traditions, 108 is a sacred number connected to the earth, sun, and moon. 
The very first thing I did was to create 108 empty boxes to check off as I went along.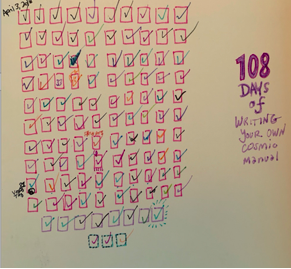 Here's my actual page in the front of the journal. I started this on April 3, 2018, and each night I'd check the box as I created an illustrated picture and journal entry.
It felt incredible to check that box after I was done. 
So many nights I really didn't want to sit down and work on a new entry. Sometimes it meant a few 4 a.m. nights, but I had made that commitment. I remember one night I literally fell asleep as I was drawing a quote and my pen slipped, but the entry ended up being so much more powerful with that "on-purpose mistake."
Sometimes I couldn't believe "I" had written it. It just flowed through me. Normally, I'd meditate and then just see what wanted to come through me. Pretty personal and sometimes a bit out there, these were direct downloads from the Universe. 
I created this Cosmic Journal just for myself and had no idea where it would lead. The only thing I focused on was checking off the "Cosmic Checkbox" each day. 
Draw. Write. Check.
Draw. Write. Check.
Draw. Write. Check.
And this creativity spilled over into all my other everyday responsibilities in my companies and at home. 
Try This Experiment 
You can give it a try too with your own "Cosmic Checkbox of Joy and Play."
Is there something you would really enjoy that you could see progress on each day? 
Something that is fun, playful, and joyful? 
Something that's challenging but makes you better?
It doesn't have to be 108 days either, but just having that silly little Cosmic Checkbox will move you along further and faster than you can imagine. You just have to create the checkbox and then mark it off day by day.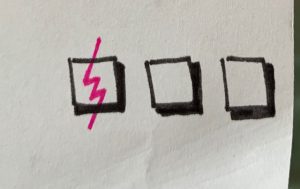 As another incentive, I noticed the more prolific I was, the better the insights and drawings became. For example, on Day #78 or so, this page came out: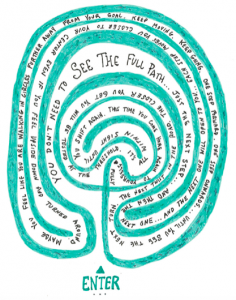 Originally it was just going to be the first few words of "You don't need to see the full path…just the next step…"
And that would be it. But I trusted my intuition and kept going. The message started blending with exactly where I was in the twists and turns of the labyrinth too. It was magical. Totally in-flow and one of my favorite checkboxes earned that night. 
Now, I didn't intend to publish my personal Cosmic Journal, but as I slowly shared a few entries with friends, they gushed about it and loved it. 
Then, very hesitantly, I put a couple out on Instagram and got a great response. And then I showed them to former Camp Maverick counselor Eric Lochtefeld at breakfast one day. He looked at them and could tell this lit me up. That's all he cares about – investing in bliss. 
He said he would fund a limited-run published version, thereby ensuring I actually paid attention and made it a real book. I have to give a huge thank you to Eric for nudging this into creation.
I've never had a project like this or edited any type of book like this. I had no specific order to the pages when I wrote them for myself; it was just whatever showed up that night. 
I sent the original journal to get scanned and got back these little 2"x 2" squares for each page. My entire kitchen island was covered in these thumbnails as I figured out where they went. 
And I knew I was on the right track because I finished them at exactly 1:11 a.m. and same thing for the left-hand prompt pages – 1:11 a.m. Wow! Serious magic!
We published 888 copies of this special limited edition Cosmic Journal, available here until they're gone: www.CosmicJournal.com.
Not all 108 entries made it in here, but you've got 101 in here, so if your Cosmic Checkbox is doing one journal page entry, you have time to get your copy. 😉
The Cosmic Journal can be read from beginning to end all the way through, or an even more powerful way is to use it like an oracle. Simply hold your question or intention in mind then flip to a page at "random" to see the perfect message awaiting you there from the Universe.
It's almost uncanny how the signs, symbols, and synchronicities line up. 
Even if you have tried journaling but stopped or have never done it, you'll love the Cosmic Journal. It's totally different because it's like getting a direct download from the Universe.
I've started calling it "The galactic instruction manual you were missing when you were born to RE-remember your destiny."
And this still isn't the end of the story….
My friend Jeff Walker introduced me to the president of Hay House Publishing (the same people that publish Wayne Dyer), and after a quick breakfast meeting, he said he's never seen anything quite like this. So I immediately got a book deal for the Cosmic Journal and an oracle deck. They've fast-tracked it for November of this year…and if you know much about traditional publishing, that's super fast! 
The revised Hay House version will be out soon, and you can already pre-order it on Amazon, BN.com, or any other bookseller online. (Save your receipt because we'll be doing special bonuses for pre-orders.) Also, I'd really love your voices/help getting this out more. 
We've had a lot of people buy multiple copies of the Cosmic Journal as gifts for their audience or their team. You can buy them in package sets on the site. Or if you are interested in more than 100, let us know as we can do something special or custom for you.
Give the "Cosmic Checkbox of Joy and Play" a try, and see how it goes. I'd love to hear what happens as a result of your experiment.