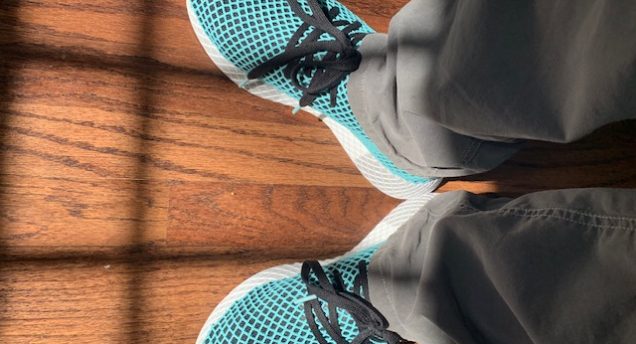 Let's face it. Social media has become a beast. It's difficult to get away from what everyone is doing, eating, or thinking about or where they are traveling. Social media is the spot where many people want to "show off" what's going on in their lives and look cool.
If I'm an ultra luxury buyer, I might flaunt something like this sitting in my private jet (per "Rich Kids on Instagram"):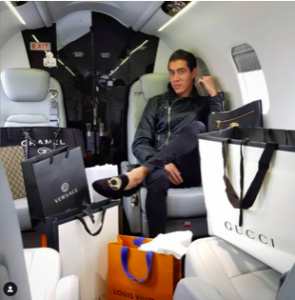 But you can use this built-in behavior of "conspicuous consumption" to your advantage as an Evolved Enterprise.
This is something new I've been thinking about…
Inside the book, I mention artifacts that your customers/members want to share. I highlighted the charity, Falling Whistles and the social enterprise, Giving Keys as two examples that practically force people to ask about what the item is hanging around their neck.
I want to show you a few more and get you thinking….
As you know, our key focus last year was Global Goal #14: Life Underwater. So after understanding more about the issue and its importance, I want to continue making a greater difference. One of my favorite examples of a company really pushing their impact is Addidas, working together with social agency Parley. As they say on the site, "We are working with Parley to keep plastic from entering our oceans and transform it into high-performance sportswear."
Since an early prototype, they've really gone all-in, and it's working. CNBC reported Adidas sold 1 million shoes made out of ocean plastic in 2017. Each pair of shoes has approximately 11 plastic bottles.
And I think there's something big here that may or may not be their intentional strategy. Take a look at my shoes I bought: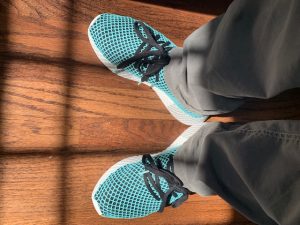 They have lots of different models and versions now – but I picked ones that are bright blue/aqua like the ocean to "signal" what these are and what they are made of.
Signaling is a biological theory of how certain types of animals signal their status as a worthy mate or to establish their spot in the pecking order. On social media, signaling is what we show the world. It implies WHO we are, the identity tied to our behavior, and also our buying choices.  
But we can turn this in our favor for a greater impact with…
Conspicuous (Conscious) Consumption and Socially (Good) Signaling
I've now shared with multiple people about my shoes being made of reclaimed ocean plastic because a) It spreads this idea, and b) frankly, it makes me into someone with a stronger identity of caring for the ocean.
This is the same for your customer. Some people might think the shoes are ugly, and that's a good thing. Really it is. I'd say more accurate is that they are conspicuous…hence our conspicuous (conscious) consumption. I also call these "conversation crutches." I've told the story before of the cufflinks Virgin Galactic has sent to their future astronauts. It was brilliant because if I go to a black-tie event, I'll probably wear them, and invariably I'll have someone ask me what they are. Then I can share my love for space and Virgin Galactic in an organic way. Otherwise, I look like a complete jackass if I sit down and just start spouting off about how I'm going to space and how cool I am.
You can build this conversation factor into your product. For instance, one of the shirts I often wear is from the non-profit Not for Sale. The lettering is big and practically forces conversations about their work to stop sex trafficking. Actually, they have a really unique model of creating empowering businesses to develop economic opportunity in the headwaters of the Amazon, where they work.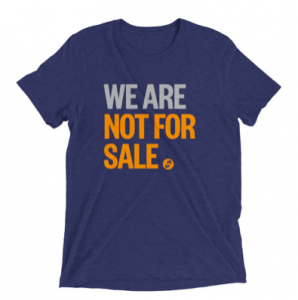 The more distinctive, the better if you want those (socially good) signaling behaviors to be stronger. For example, there are now quite a few sunglass makers working with recycled and upcycled material. https://www.uniguide.com/recycled-sunglasses-eco-friendly-brands/ I really like the ones that have the most distinctive look and feel to them, so again, they force the conversation about the impact, like these from Norton Point.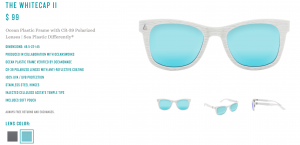 Note: For a long time, they were sold out, so it seems this version was the most popular.
Another way to do this is by creating subtle distinctions like BMW did with their electric i3 car: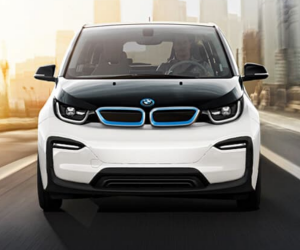 So the question to brainstorm is this:
"What can I do to make my product or service distinctive enough that my customers/members have to talk about the impact and enhance their own identity as someone who is part of the solution?"