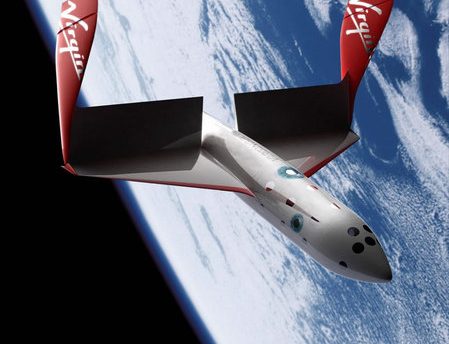 Last week I headed to the Mojave Desert to tour Virgin Galactic.
I've been with them from nearly the beginning, back when they opened up tickets to the public. I've held my ticket since 2007 – so 10 years now. Some of you may remember the crash that happened on October 31, 2015.
I was having lunch with consciousness evolutionist Barbara Marx Hubbard when I heard the news. It really hit me in a big way. Both Barbara and I cried. Not because of "boo hoo" for me personally since it'll take a bit longer to get into space but because of the significant setback for commercial space and for the possibility of what that brings. Thankfully the Virgin Galactic team used this tragedy as a rallying cry and came together to build the next spaceship, which they called "Unity."
Seeing everything at the factory made me realize how hard it really is to get into space and the work that is involved to make it safe and commercially viable.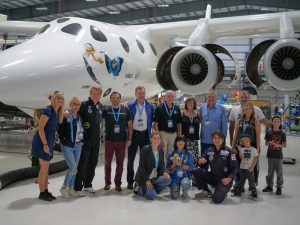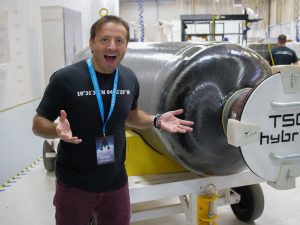 I toured the factory with a handful of other "future astronauts" and got to hear their stories.
One of my favorites was from the only person signed up from Iceland, Gisli Gislason. He told me everyone in Iceland knows everybody else's business, and many people knew he was scheduled to go into space. So when the crash happened, they asked if he was still planning on going, and his answer was total commitment with this response: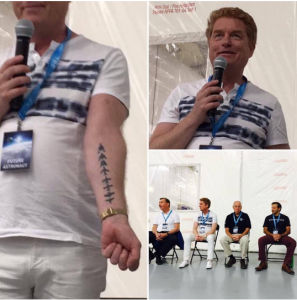 That's the tattoo on his left arm of the "DNA of flight" – part of Virgin Galactic's logo. I'd say that's a resolute yes. It's also an interesting lesson in how deep the commitment is with communities when there is a bigger mission or purpose. This is something I talk about often in Evolved Enterprise.
In the photo collage, you can see me and a few of the others who sat on a panel for a "lunch and learn" session for the team at Virgin Galactic. They make it a point to hear from each future astronaut about their WHY – why they signed up and why they are going. This really connects the workers with a bigger mission and purpose.
The Overview Effect and Greater Global Impact
One of the team members asked the panel how they thought spaceflight might make us start thinking of a greater impact in the world. Obviously I loved that question. Astronauts who have returned from their space missions talk about the "overview effect" – seeing the world as this precious and incredible treasure from space. They don't see the country borders or any political compartmentalization – just one world.
I mentioned that when you travel, you gain a new perspective on cultures and a deeper understanding of others. It was my hope that seeing a new, elevated perspective would get us to apply our skills, networks, resources, and talents to serving the world and living our legendary legacies. One of the entrepreneurs sitting next to me was profoundly inspired by this and realized he needed to change what he was doing with his work.
Another way of bonding and connecting the community of customers to the team is a Polaroid taken of each future astronaut with an encouraging message: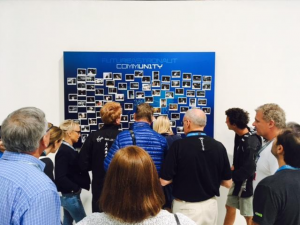 Talking to team members at Virgin Galactic, I can feel that the pace has really picked up and that we are getting close again. One more guided test flight and then they will start doing rocket-powered test flights. The big question is when is the first flight – and they won't really give a prediction anymore – but it's coming. My guess is the first real flight would be 2019, and then I'd go up in 2020 or 2021. Stay tuned…