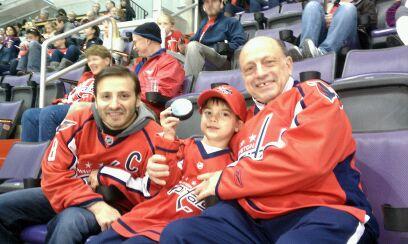 My 9-year old son, Zack and I had a bit of a 'boys night out' with just us two dudes last night.
We went to a Caps game against Buffalo and on the drive there he was asking about some of the classic games I'd seen.
I've been a fan for the last 25+ years, so I have lots of memories. I was at the Cap Centre for some of the best moments like the Hunter OT winner vs. Philly and also some of the most heart-breaking ones. Yes, I was there for the '87 4- OT loss to the Isles in Game 7! I was 14 at the time with my father, Joe. His rule was you never leave a game until the very, very end. (I can still remember going into the 4th overtime and my entrepreneurial spirit kicking in saying we should be selling Cokes or coffees.)
I shared with Zack some of the other big games I'd seen too like the Game 7 win against the Rangers in '09 with Federov scoring in the third. That was such a great comeback series! My wife, Missy, sacrificed her birthday that year to go to the final game. We actually managed to get amazing seats for that game right behind the bench.  Here's a shot that appeared in the Washington Post the next day with my brother, dad and wife all in the background behind Boudreau: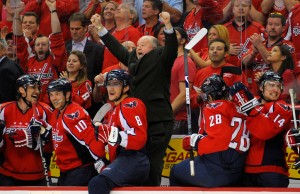 (Missy is 1-1 on her birthday with another game 7 on April 28th that we didn't win.)
I told him my list also included both Winter Classics including the first time one in Pittsburgh where I showed up as "Captain Capitals".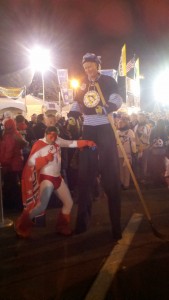 Zack was really happy that I mentioned this year's Winter Classic because he was with me and now he was part of our shared Caps history.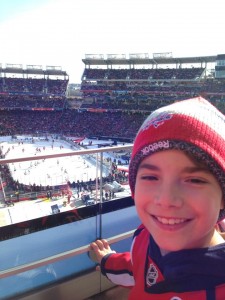 Fact is, I love the way a sports team can bring together generations.
In Ted Leonsis' wonderful book, The Business of Happiness
, he mentions that when he bought the Caps franchise from Abe Poulin, he told Ted that owning a team is a true 'Public Trust'.
Well after tonight I get it even more – but to really understand that you have to go back in history a little bit…
My dad is responsible for getting me into hockey and the love of the Caps. We came to the United States from Russia in 1976, and he brought his affection for hockey from the Soviet Union here to DC. I started attending games when I was 7 or 8. I remember vividly the "Save the Caps" tele-sales drive in '82 and asking my dad to buy some tickets. He picked up a 10-game plan so we did our small part to save the team.
And it was only fitting I invited my dad along for Zack's first Caps game a few years ago. It was pretty perfect because he caught a puck from Semin by yelling puck in Russian (shiboo).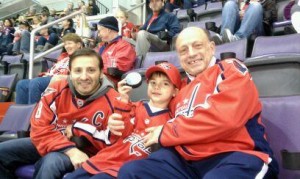 With the Capitals 40th Anniversary year this year, I started thinking about how many different threads and memories the Caps team and community have been in our family.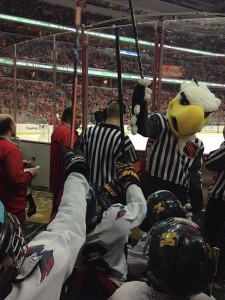 I remember way back as a kid skating on the mini ice at the Carousel Hotel in Ocean City, MD with Rod Langway and Yvon Yabre. We had some cheapo plastic sticks and I was still rocking the rental skates.
It was years later that I finally played youth hockey for real. Both my Bantam years I was chosen from my team to be part of the shootout they used to do in between periods. I think I was the only one to have ever won 2 years in a row, at least at that point.
I had, and still have, pretty much one breakaway move – forehand, backhand, forehand wide and bring it back to the backhand to roof it. I kept going back to that move over and over as my goalie bailed me out to win in the 2nd year. Actually my men's league team now calls "Oscar Meyer" if I get a break on net.
And coming around full circle, Zack, was part of the 'mites on ice' program last year.
I love the fact that Caps really go out of their way to be part of the community. Just one example is for the past few years I've been involved with DreamsforKids.org. It's an opportunity for special needs kids to learn about hockey and meet some of their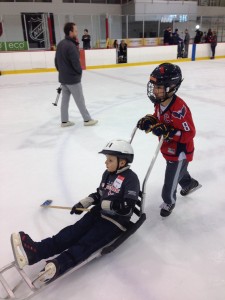 favorite hockey players.
My brother, Adam and I have been there multiple times, and I take Zack out of school to be involved in serving others.
I always ask him if he'd want to go to help the kids if no Caps players showed up (we never know who will be there or if there might be a cancellation). His reply is always 'Yes'. I'm proud of him for helping here with our buddy Jonathan.
And that kind of hospitality and involvement starts at the top. I was fortunate to have the owner, Ted Leonsis, come out to keynote the Underground® seminar one year. I loved his book and message so much that I wanted to share it with more entrepreneurs. (His 'Business of Happiness' really is a wonderful book!)
Now simply speaking could have been enough, but he went out of his way to actually invite us to the owner's box so I could surprise my dad with meeting Ted.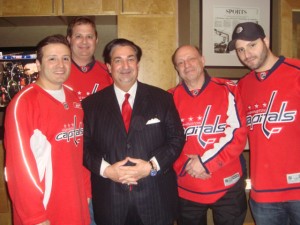 And then last year my brother Adam's company, ParkingPanda, that he co-founded is an official parking partner of Monumental sports. Adam deserved a big thank you because he was able to get us into a cool skate at Nats Stadium following the Winter Classic. Zack loved being on the same ice as the Caps and hanging out on their bench.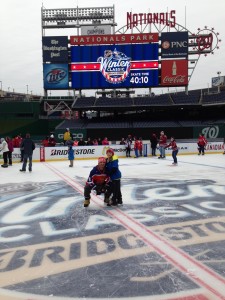 I've seen Zack grow up through the sport of hockey and at tonight's game I really saw a big moment.
He wanted to go watch warm-ups so we got down to the section 100 seating pretty early on. This time he was determined to get over the glass where the Caps come out of the locker room. (It's actually really nice that they allow kids and fans down early for warm-ups.) So Zack is about 3 rows up and in a pretty good spot but then the actual ticket holders for those seats show up and the usher graciously escorted the kids out of the row.
Zack came back to me and asked what he should do. I told him he can figure it out. It surprised me that he walked right up to people in the row he wanted and politely said, "Excuse me" to get up front again. This was a big step because Zack really doesn't feel comfortable all the time speaking up like that. He ended being the very first one at the bottom of overhang so he got high-fives from all the Caps leaving the ice. He was ecstatic!
After warm-ups were over we headed up to the concourse and started walking to our seats. We got a few feet and ran into a kid from Zack's squirt hockey team. They both said hi and then he whips out an official puck that's still wet from the ice. He told Zack that Eric Fehr had tossed him a puck. He wasn't showing off – just excited. Now I thought Zack might get pouty or be upset that he didn't get a puck but he just looked at his teammate and said, "Cool!"  No big deal and no complaining. I was really proud of Zack again here again. He was happy because he managed to do exactly what he had set out to do.
I really do think I saw him grow right before my eyes. It wasn't just two guys eating chili dogs at Verizon Center and enjoying a solid 6-1 rout by the home team – but a shared memory in the tapestry of our family. I'm so thankful I can continue the tradition my dad started with me so many years ago and hopefully we'll get to see the Caps raise the cup one year soon with all of us in the stands. But that might even be secondary to having this unique bond.
I remember watching the final episode of the TV show Parenthood with my wife and thinking how appropriate it was for the Braverman clan to have a send off for the patriarch, Zeke, with a game of baseball. It was something they all shared as a family and it goes beyond just the sports side of winning or losing. There's truly something magical with the joy and connection that comes from these shared moments.
Update: It happened! The Caps finally won the Stanley Cup. What an incredible run and a magical season. My brothers and I went out to Las Vegas to see them hoisting the Cup and I nearly had tears watching. (In the Washington Post, you can just make out my brother, Adam on the right-hand side.)