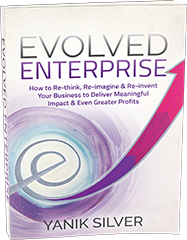 Change The Way Business Is Played
Subscribe And Get The First 3 Chapters of my Evolved Enterprise Book
Yanik's Journal and Musings
A few weeks ago, in perfect timing, The Book of Joy arrived at my house. It occurred the same day I got to the page in my journal that I had doodled a question "Is there joy today?" several weeks before. Nice little bit of magic. I took the book with me on my Strive […]
Who is Yanik Silver ?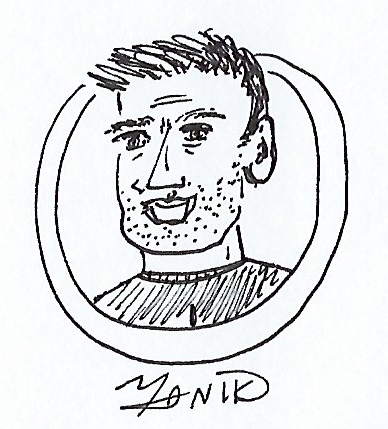 Yanik Silver redefines how business is played in the 21st century at the intersection of more profits, more fun, and more impact.
He is the founder of Maverick1000, a private, invitation-only global network of top entrepreneurs and industry leaders. This group periodically assembles for breakthrough retreats, rejuvenating experiences, and impact opportunities (to-date raising over $3M+) with participating icons such as Sir Richard Branson, Tony Hawk, Chris Blackwell, John Paul DeJoria, Tony Hsieh, Russell Simmons, Tim Ferriss, and many others.
Yanik serves on the Constellation board for Virgin Unite, the entrepreneurial foundation of the Virgin Group and Branson family. And his lifetime goal is to connect visionary leaders and game changers to catalyze business models and new ideas for solving 100 of the world's most impactful issues by the year 2100.
In between checking off items on his Ultimate Big Life List, he calls Potomac, Maryland, home with his wife, Missy, and two mini-maverick adventurers in the making, Zack and Zoe.
That's the regular stuff. Now the more interesting material:
He won the "Oscar Meyer Weiner" ice hockey shootout championship (twice) as a kid. His men's league team still yells "Oscar Meyer" when he infrequently gets a breakaway.
He surprised Sir Richard Branson dressed as a showgirl in Vegas before a keynote speech.
He broke 200mph in a racecar with nothing more than a green speedo on.
He was the 4th grade lead for the Tin Woodsman in The Wizard of Oz, and that was the start and end of his promising theater career. (He still can sing most of his solo.)
His birthday is 9/25, and inside sterling silver, you will often see the number .925.
He snuck out at the age of 5 to buy markers with his Hanukah money—only to catch the wrong bus home and end up at the police station. (Undaunted, his love of doodling still continues to this day!)